Exhausted physically and mentally pretty much covers how I am feeling. With only 30 min of sleep in the past thirty hours and adding to that frayed nerves, I would expect this to be a good result.
In all my ocean sailing adventures, I have not seen seas as rough as what I experienced two nights ago!
Conditions grew calmer as each hour passed. I tried to get some sleep during the day, but sleep would not come for whatever reason.
Twice I thought I heard someone say something. I even went to see who it was that had called out. When I started to hear traffic noises, I realised my brain was not functioning optimally.
As nightfall came, a few light rain squalls passed, reducing the temperature slightly. I made sure I ate something and then crawled into my bunk.
I was out for 4 hrs straight. A quick nature break in the blue bucket. I wonder how this will go down with Judy if I leave it on my nightstand at home 😱 so convenient.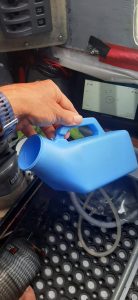 Then back asleep for another few hours only to be woken by the AIS alarm shrieking. The first boat I have seen in days.
Shew, it feels good to be through the other side of the big blow. It's still 20 kt wind with a messy sea, but I'll take it any day over what was " The Big Blow."
The following four days' weather forecast shows light to moderate SE. That shifts the challenge from survival to coping! The good news is we can start the push West and find the trade winds.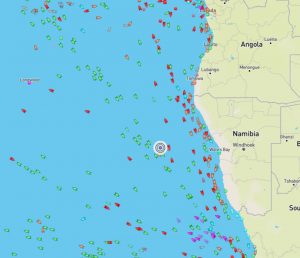 Food: butter chicken with rice
Snack bars, salami stick and droewors.
Sea life: Leach's Storm Petrel
https://www.richardkohler.co.za/wp-content/uploads/2022/12/WhatsApp-Image-2022-12-31-at-07.03.28.jpg
1280
960
carmen
https://www.richardkohler.co.za/wp-content/uploads/2020/06/RK-Logo-WHite-Site-300x227.png
carmen
2022-12-31 09:31:49
2023-01-02 17:53:11
Day 12: Whose there?