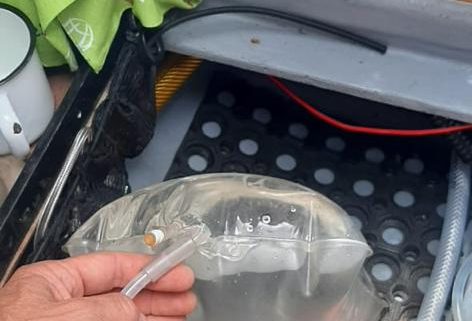 It turned into one of those cooking show my wife so enjoys.
For breakfast, I decided to try something different. It was one of those last-minute, so why not pop into the shopping cart moments a few days before leaving? It's been many, many years since I have had breakfast cereal.
I added powdered milk to the cereal and poured water over it. It was pleasantly tasty, but I suspect it's mostly due to the sugar.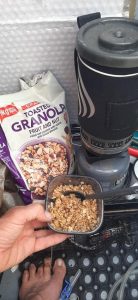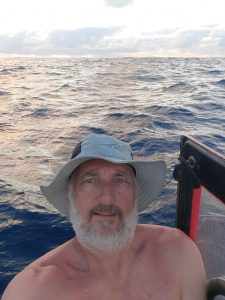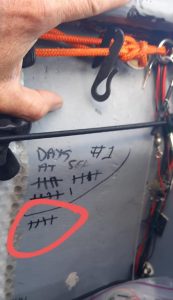 I followed this with a cup of coffee while watching the sunrise. Almost immediately, I felt the kids tugging for a trip to the pool. I believe a routine is developing.
Now that the salami sticks are finished, I was pleasantly surprised that I did not have to look for too long for the biltong. Sometimes the housekeeper surprises me.
Usually, it's "Mr. Rich, Que!"
Today I felt a little sun shy ☀ but I did a good number of paddling hours in the afternoon and evening after it had somewhat clouded over and cooled down.
Great news from the shore team. Got the go-ahead from Albert to make a little extra water 🚿 but only after the battery is charged and the sun is full on the panels. This means I will smell lovely when Santa 🎅 brings me all my gifts.
(PS I was particularly well-behaved this year 😉 oh! Do you think he will mind powdered milk with his cookie 🥛🍪)
The day's highlight was a very short visit by a school of dolphins 🐬. My pace is way too slow for much "bow-riding fun," so they moved on before I could get any snapshots for you. 📸
Co-ordinates: S 28°45.33 E014°00.86
Breakfast – Cereal with milk + coffee
Lunch – popcorn, biltong, energy bar.
Dinner – creamy parmesan chicken & Noodles
Bird of the day: Cape Petral
🛠 A little watermaker maintenance on the brine exit pipe was required today. I spotted it leaking (on the biltong hunt), and it's in the same locker where most of my food is kept. Nobody likes soggy snacks.
In my wisdom, I have used a larger diameter pipe than I should have, and the hose clamp cannot give it a decent seal.
I removed the pipe and wrapped several layers of insulation tape around the outlet, increasing its size to suit the larger pipe.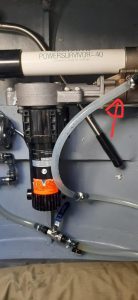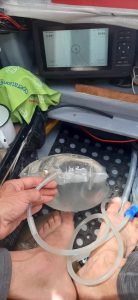 Last night I went out for a fancy meal at the restaurant at the bugging of the Atlantic. To make you jealous, this is what I chose off the menu.
A rich and creamy dish made with free-range chicken, In a garlicky mushroom, sundried tomatoes and basil pesto, with a touch of parmesan. It was served on a bed of noodles.
Eat your heart out. These freeze-dried meals from Forever Fresh have been incredible.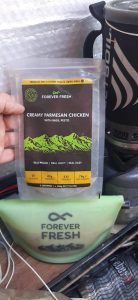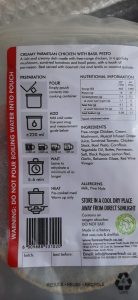 https://www.richardkohler.co.za/wp-content/uploads/2022/12/IMG-20221224-WA0046.jpg
1024
472
carmen
https://www.richardkohler.co.za/wp-content/uploads/2020/06/RK-Logo-WHite-Site-300x227.png
carmen
2022-12-24 07:19:58
2022-12-24 07:19:58
Day 6: What's cooking?