It was a day with some highs but not a good one overall.
It started with a call to speak to my lovely Judy (current and 1st wife.)
This was via WhatsApp, believe it or not. We chatted about the day ahead with her family. Jeez, I could be there instead of on this bucking bronco in the middle of nowhere. (1st warning sign.)
I texted the shore team and heard about their Christmas 🎄 family fun. Received a bunch of well-wishing messages from mates. Thanks. Missing all my mates. (2nd warning sign.)
In the afternoon, I managed to call my mother to wish her merry Christmas, let her know her precious laat lametjie is ok and thank her for the home-baked minced pies she snuck aboard Osiyeza when I left. Yum.
I found four gifts that I got to open. In one, Judy put a little 100ml plastic bottle filled with soet wyn and some sweets. I think I will have a sip tonight, New Year and on my Birthday. Osiyeza is no longer a dry boat!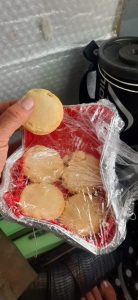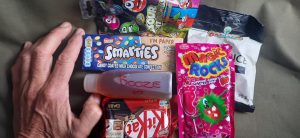 Inside another were my favourite local candy chocolate, smarties, and a kitcat. Thanks, Ralph & Barbs.
Mom's gift was a stress ball with an image of a cat face. It was not the prettiest cat picture to start with, but the poor thing is ugly as sin once you squeeze.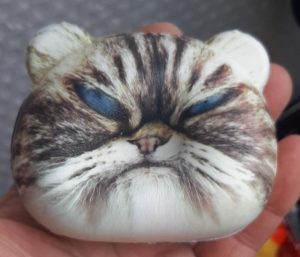 When I left on the last attempt, I was given a bunch of cards on which people had written short notes. Words of encouragement and that sort of thing. I never read any of them then, as the trip was over in 16 days. I have them here with me as they are as relevant this time as they were the first time.
Feeling a little low, I thought I would read one or two to pick me up.
The first one I took out was from my father.
I returned from last year's attempt just in time to see him in the hospital before he died.
I won't elaborate as to what he wrote as I can't see my screen through my watery eyes right now.
I have some of his ashes with me on Osiyeza. He had always wanted to sail across the ocean with me, so I hope this will count for something.
Let me just say that today goes down in my personal history book as my lowest emotional state. I can't even begin to describe how emotionally mixed up I am right now.
I am digging deep, very deep, to keep this in check. I guess my blogs can't all be humorous. Sorry.
I'll chat with you again once everything is back in the boxes where they belong.
Co-ordinates: S26°56,21 E012°15,54
Food: 2x mince pie. Not hungry
Bird: I don't think I saw one.
Sea life: more blue bottles
https://www.richardkohler.co.za/wp-content/uploads/2022/12/WhatsApp-Image-2022-12-26-at-08.03.50.jpg
1097
1280
carmen
https://www.richardkohler.co.za/wp-content/uploads/2020/06/RK-Logo-WHite-Site-300x227.png
carmen
2022-12-26 06:52:45
2022-12-26 06:58:37
Christmas Day