This week's salami stick rations are finished already. That's the problem when you can reach them from your bed, galley, lounge and even the bathroom.😔
On a positive note, I still have some biltong and droewors. I just need to find where the housekeeper put them.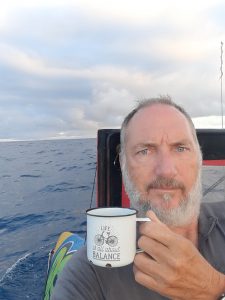 Slow day today. Very light SW wind. Trying to keep an NW direction which is almost across the wind. No need to paddle hard. I keep on telling myself it's not a race. You have missed the Carnival (17th Feb) already. 😭
Currently, I am only consuming about 10% of my battery capacity (200Ah) per day, and by 9 am in the morning, they are fully charged again.
So I am considering running the watermaker for 20min longer, giving me about 2L of fresh water that I can use for a daily shower. 🚿
Over the top luxury, but how lekker would that be?
Need to get permission from the shore team first. 🤞
I got slightly sunburnt from taking a long freshwater wash. "Good, clean and fresh tra la la."
Note to self: introduce the suns 🌞 kiss to the paler areas a little bit at a time. Don't rush the relationship.
One of my viewing pleasures is the YouTube channels that I follow. Quite a range of topics, from aquaculture and sailing to travel adventure. When I train using the paddling ergo, I usually watch one of these to help with the monotony. I downloaded the last few episodes of "ITCHY BOOTS." A Dutch girl is riding her motorbike around the world. Healthy and real viewing pleasure.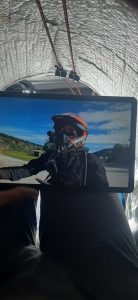 Co-ordinates: S 30° E015°
Breakfast – apricot yogurt with mixed seeds & nuts
Dinner – Tuscan Chicken, rice & fresh sprouts
Bird of the day: Shy Mollymawk (best guess)
https://www.richardkohler.co.za/wp-content/uploads/2022/12/WhatsApp-Image-2022-12-23-at-07.47.17.jpg
1599
1200
carmen
https://www.richardkohler.co.za/wp-content/uploads/2020/06/RK-Logo-WHite-Site-300x227.png
carmen
2022-12-23 07:45:52
2022-12-23 07:45:52
Day 5 :Good, clean and fresh tra la la la