It's good for the mind to have a structure to follow. Basic things like brushing your teeth or cleaning your face.
Today started off with black coffee. A short stint on the paddles watching the sunrise and the colours change.
There were lots of plankton streaks again. Some of the position organisms shine like glitter when got by the sunlight. Beautiful to witness.
Just then, a school of dolphins came charging past. Jumping from crest to crest with a sense of urgency. They completely ignored me, but I took seeing them as a positive omen. Hope their hunt was fruitful.
I have been listening to the "Stuff you should know" podcast, and today's one was on "beekeeping", and yesterday was the history of Rock, Paper, Scissors. If you can get past the drone of their voices, you warm up to them. They do make the podcast very informative.
I am also listening to an audiobook called FEAR by Ranulph Fiennes and have a David Baldacci book going on the kindle. There are a few Netflix movies and series that I have downloaded as well.
Everything that can be prepared for the big blow has been done. The wind has started to increase around 16:00.
Not yet as strong as forecast, so hopefully, the system has dialled off a bit. Time will tell.
I get to spoon my paddle again.
I will bring it to bed with me tonight. I did this a while back as well. I am concerned that the breaking crests of the waves that crash over the back of Osiyeza may break the paddle.
It was a very tough, bouncy and stuffy night. All hatches latched down firmly. Osiyeza set on an NNW heading to run with the wind and swell, although her course would range from WNW to ENE.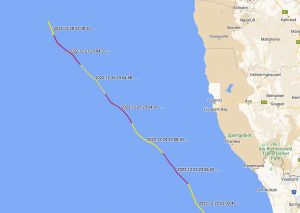 The sound of the waves bashing into the sides and over the back is amplified 100 times inside the essential carbon fibre drum. Even with the bubble wrap insulation, it takes some getting used to.
I have also become quite used to surfing down waves headfirst, lying on my back. Please do not try this at home.
A few times during the night, my feet got wet from waves breaking into the washboards. Not a lot but still enough of a spray to wake me up imaging the worst. I have learnt not to sit up straight away.
The big swell arrives today with a little more wind. Each time I go through a new level of discomfort, I know my couch (comfort level) has moved just a little bit more, which is a really good thing for growth.
Co-ordinates: S24.2809, E9.7134
Sea life: I saw a turtle, dolphins, plankton
Pre-storm dinner was: Moroccan Chicken with Chickpeas and couscous
"A rich marinated free-range chicken dish smothered in a blend of Morocco spices, ginger, coriander and tomato sauce with chickpeas. Best served with fluffy couscous."
Fluffy couscous! Guess what? I do have it on board.
The two starches that I dehydrated at home are rice and couscous. I have three tubs of rice and one tub of couscous.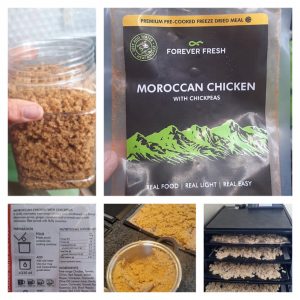 https://www.richardkohler.co.za/wp-content/uploads/2022/12/WhatsApp-Image-2022-12-28-at-18.56.00.jpg
1280
1280
carmen
https://www.richardkohler.co.za/wp-content/uploads/2020/06/RK-Logo-WHite-Site-300x227.png
carmen
2022-12-29 09:14:15
2022-12-29 09:14:15
Day 10: Waiting for the storm!