Big wash and prep day.
I have only been wearing two clothing items so far besides the waterproof gear, I have on top when I am paddling. A long sleeve top and full-length leggings. Both are made of Marino wool. This stuff is the best thing since sliced cheese. It just never stinks.
I tested this top for a whole week of cycling to work and back from work, and it never smelt anything like the standard exercise clothing we wear that stinks even after one use.
I washed both items in my special black bucket. I sacrificed 2L of water for the job but kept the last rinse water I used to wet my body before applying my body wash for another shower 🚿.
Even though it may not be the most enjoyable thing, washing yourself with cold water in a cold breeze while trying not to fall off a rocking ship, you somehow feel like a million bucks afterwards.
Note to self: Don't forget to apply the bum cream.
I was considering filming 🎥 this shores scene. Not sure what your kinks are, but I would not be able to watch it. Especially the part where I go down on my knees and lift the rear end up and off the seat so it, too, can get the royal 🚿 treatment. 😱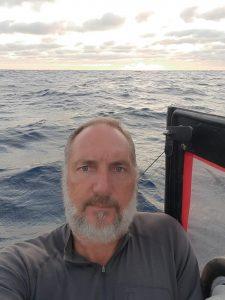 Weather report.
Big wind is on its way!
In fact well into the weekend but the worst on Thursday evening and Friday. Gust up to 40kn from the south with 4-5m seas. This will be the biggest challenge Osiyeza and I will encounter.
Attempt #1 I used the sea anchor twice in 30kn+.
This time around, I trusted the design principle. Cabin in the front, so she is made to go downwind and ride with the swells. Like a weather cock the side with the most windage will be blown downwind. In Osiyeza's case, the cabin/front of the kayak.
We have had a few days with 30kn+ winds, and we rode it out by running with the sea and wind. Osiyeza handled it like a champion, which can be seen by the large milages.
40kn+ and 4m+ swell for two days makes my balloon knot tighten!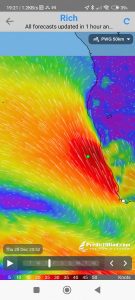 I spend my time preparing Osiyeza by stowing everything away and adding extra seal tape to the two hatches. Generally, getting things ready.
Moved some food into the cabin.
I will also move the EPIRB into the cabin lest a wave breaks it out of its mounting.
Today I also did a sea anchor deployment test to ensure it's all connected correctly but, more importantly, so I remember how to do it. It's been a while. It went OK, but the stowage bag that North Sails made is a definite improvement.
The question is whether to use the sea anchor or to run with the sea.
I must make the call before I am too far in the thick of things. The last thing I want is to be mucking about in the cockpit, taking waves over my head or, worse yet, getting rolled while playing with lots of rope around my feet. Little moon and cloud cover won't help the matter.
Wednesday, the winds will start increasing, and by Thursday evening, it should be at full strength.
Hopefully, after Saturday, we can start our left turn towards South America just as the Cape to Rio yachts set off. Wonder if I will see any of them.
Co-ordinates: S25°13″07′ E010°29″13′
Breakfast: cereal.
Food: Curry chicken and rice
Sea life: Blue bottles, flying fish, plankton.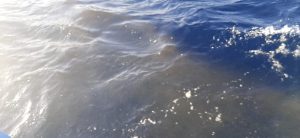 https://www.richardkohler.co.za/wp-content/uploads/2022/12/WhatsApp-Image-2022-12-28-at-07.58.27.jpg
1280
960
carmen
https://www.richardkohler.co.za/wp-content/uploads/2020/06/RK-Logo-WHite-Site-300x227.png
carmen
2022-12-28 07:18:11
2022-12-28 07:18:11
Day 9: Prep for heavy weather