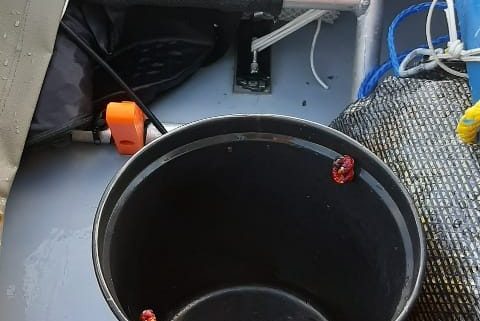 Started off very civilized. I even managed to get some good shut-eye during the night. Feeling positive.
There was not much to report for the morning other than all the elements had lined up and we were cruising. Not hard paddling but consistent.
One thing I wanted to check today was the airtight rear compartment. This is where the back solar panel wires live and where water leaked into that caused the corrosion and termination of attempt #1.
A few days with waves washing over the stern should reveal if the leak had been repaired.
With much trepidation, I unscrewed the inspection hatch and ran my fingers around the inside, feeling for any moisture. 🤞
When I pulled my hand out, my fingertips were covered in fiberglass dust. Yes, dry as bone dust!
Whoohoo! Not a drop of water. 👍
Around midday, I was checking in with the shore team when this happened.
Me: Oh wow. Osi just surfed down a 🌊. Pretty exciting and scary all at once.
Albert: 😮 how big a wave was that…
Me: No idea. I was lying down on my back texting you. Going head-first down a wave is an odd feeling.
The cockpit flooded, and I almost lost my black 💩bucket. No, it's not tied on, but one would think it should be!
TWO critical things learned from that experience.
1)The bucket stays inside tonight.
2) no more paddling today until it calms down. It's getting a bit dodgy to be outside.
3) I guess I will have to spoon my paddle tonight because it must also spend the night safely inside.
3) Osiyeza is the champion and I possibly a hindrance. 😜
Oh and that reminds me of a silly joke.
"There are three kinds of people in the world. Those who can count and those who can't" 🙃
Hatches battened down; I plan to ride this out with the building wind and sea. If it gets out of hand, I can turn face into the wind and deploy my "series drogue" (similar outcome but different to a sea anchor). North sails have made me a cockpit bag that sits behind my seat and keeps the series drogue ready for action, blocking some of the water that washes up and over the back deck and down my neck.
Had a relatively close overtake with a small ship. I chatted with him on the radio to ask if he could see me.
Can you see me on the water?
Please let me know when you do eventually spot me.
When he was a beam to me, he called to say he had spotted me.
"Very low in the water. Waves hide you."
Happy to have a working AIS on board. Even if MarineTraffic sometimes shows me in the Indian Ocean
Co-ordinates: S 31 12.57′ E015 55.13
Breakfast – yogurt and nuts
Lunch – salami stick & Jungle Oats bar
Dinner – Lamb Tangine with noodles
Bird of the day: Can't remember 🕊
Sea life: a lonely blue bottle
Amount raised for Operation Smile: R138,157
No of smiles changed: 25
https://www.richardkohler.co.za/wp-content/uploads/2021/12/WhatsApp-Image-2021-12-30-at-19.18.00.jpeg
1041
480
carmen
https://www.richardkohler.co.za/wp-content/uploads/2020/06/RK-Logo-WHite-Site-300x227.png
carmen
2022-12-21 06:34:01
2022-12-22 07:27:19
Day 3: Surfing the Atlantic