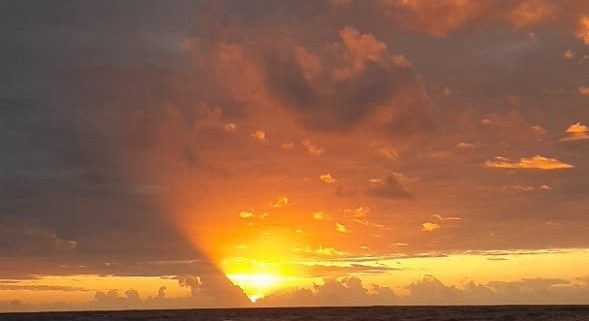 Another milestone. Eight sets of four lines, each with a fifth line crossing them out. 40 days, 40 nights of paddling towards Brazil in Osiyeza. 🎉
I opened a new vacuum packet of droe wors. A little bit of white mould was easily wiped off. This batch was still a little moist, so I hung them up in the cabin where temperatures are the highest to let them dry out a bit more.
Now everything smells of curing meat. Not an offensive smell to me, but probably the reason I felt hungry all day.
It was another day of mixed weather. Cloudy in the morning and clear in the afternoon. I was sure I spotted either Cheech or Chong swimming off to the side to feed on something before returning to slipstream Osiyeza's keel. I stuck a camera into the water, showing one Pilot 🐟. At least both of them did not go "up in smoke" and leave me. Feeling a little less anxious now that not everyone has left me.
A while back, someone asked in a comment, "how am I always in such good spirits?"
Paddling for all those hours each day, regardless of how beautiful it is out here, is still tough, with or without a following wind. My shoulders, neck, back and, of course, my backside ache from sitting and propelling myself endlessly forward.
Talking about it is, to me, as boring as the act itself, so I have little desire to repeat it here.
Accepting this suffering actually makes things mentally easier as I stop worrying about ways to eliminate something I can't change.
Remember, attitude is the difference between an ordeal and an experience.
I have just missed the 100km mark for the last two days. Only by a few kilometres, so there is nothing to stress about.
The 🌙 moon is slowly starting to grow, but it's also started to mess with my star gazing. It's usually nice to be able to see where I am going thanks to the moonlight, but out here, there is diddley squat to see. 🙃
What's with the kids wanting to swim at 4 am this morning? Waking me up with their demands. How their minds work sometimes baffles me. At least I was now awake and could pen this blog for you. 
Coordinates: -16.803020° lat -17.841380° long
Donations received to date for Operation Smile: 147
Thank you to everyone who has donated to this cause that is so close to my heart. Every little bit helps me reach my goal of 70 smiles in 70 days. With hopefully less than 30 days to go, please open your hearts and help me change 70 kids' lives.
Click
here
to find my fundraising page.
https://www.richardkohler.co.za/wp-content/uploads/2023/01/WhatsApp-Image-2023-01-28-at-09.02.25.jpg
1280
589
carmen
https://www.richardkohler.co.za/wp-content/uploads/2020/06/RK-Logo-WHite-Site-300x227.png
carmen
2023-01-28 09:14:04
2023-01-28 09:14:04
Day 40: Another Smilestone; 40 days, 40 nights, 40 smiles