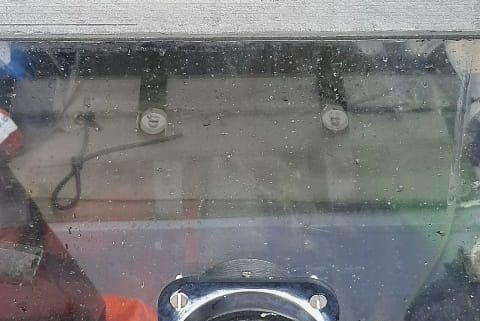 Day 3
Today the sea has been flat with very little wind which is now coming from the North. Not going anywhere at much pace because my body is a little tired from the first two days of going insanely hard.
Had two thunderstorms pass me today, lots of thunder and even a little rain. I was surprised to spot a turtle during one of the thunderstorms.
Chatted via WhatsApp to Robin my weather routing guru. The forecast still says head West for another day or so before the system returns to a bit of normality. He is using an amazingly powerful App called Predictwind who have sponsored me their Pro Package for the trip. Good to have all the pros in my corner.
I am feeling much better and no more sea sickness. I fixed my water maker again and been making drinking water at midday when I have maximum sunlight on the solar panels. I am making about 4.5L of water per hour, very pleased its working again for now. I have only drunk 6L today so definitely need to drink more.
Food consumed:
Coffee x1
Nuts and Freeze-dried yogurt
Tablespoon ButterNut Macadamia/pecan
Carb Smart Chocolate bar x 1
Forever Fresh Moroccan Chicken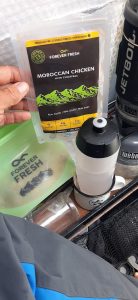 I could not work out why the cabin was starting to smell until I found the culprit, the waterproof socks that I had worn wet inside neoprene socks for two days. Eeeek! Even the little car freshener swinging next to the fan was outperformed by the socks. The socks were washed quickly before they had a chance to attack me in my sleep. I have not changed out of my Marino leggings and waterproof pants, sleep in them too. They are next on the laundry list.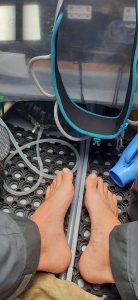 Mentioning sleep, not a lot of that at the moment, nothing longer than 30min at a time so far. Now you know why I needed that nonstop Breede paddle to see if I can manage with little sleep. Seems I can 🙃
I am getting used to the cramped quarters and starting to work out my routine and where everything is kept. Now I just need to find where I put my spare cell phone. I used it yesterday!
Water temp 20.6°C and 25°C inside
Total distance covered: 333km
Hours paddling: 13
Position:
S 32°41'13"
E015°30'25"
No of smiles changed: 8
https://www.richardkohler.co.za/wp-content/uploads/2021/12/WhatsApp-Image-2021-12-19-at-15.49.08.jpeg
1041
480
carmen
https://www.richardkohler.co.za/wp-content/uploads/2020/06/RK-Logo-WHite-Site-300x227.png
carmen
2021-12-20 06:41:03
2021-12-20 06:49:33
Day 3: Stinky Socks