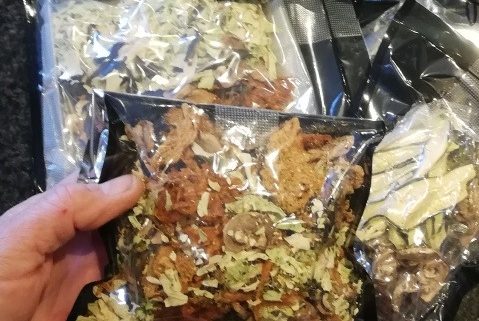 Day 2:
I am so chuffed at the design and build of Osiyeza. Once the momentum gets going, she seems to go faster and faster, especially when angling across the ocean swells. The first night was a downwind rollercoaster with surges over 10km/hr and super high averages. My "Weather Router Robin" says keep going West…
I've had a few minor challenges. Ran the water maker today but after only a few litres it started sucking in air bubbles. Made 4L in 2 hours but will need to make 12L from tomorrow.
I spent some time sealing off a loose fitting. Unfortunately, with my head below my legs on this bucking bronco I ended up blowing chunks for the first time this century! On a positive note, I think the water maker is back in action.
So far all I have managed to put inside me is a handful of nuts, a pork sausage, water and a cup of coffee. After emptying my stomach, I felt a lot better and about an hour later I had my first real meal, a chicken curry. So far so good and it was delicious.
I have an autopilot that I connect when I need to take a rest inside. It is connected to the rudder via a push pull cable. On the test run a few weeks ago the unit I used started to make a terrible noise. I took it to the agents, and they replaced a drive belt.
I have two units and last night I decided to use the new one. After a short time, it too started making the same noise! I switched to the old one and thankfully it seems to be OK.
Had my first wash. More like a sponge rub. Glad to have done it and feel a bit better. The feet however were not appealing after two days in "Waterproof socks" and booties. Nasty!
Still lots of shipping and AIS alarms going off. I wonder if they can actually see me from their ship's bridges.
Sea Life: First sighting of flying fish and had a few Sunfish flop by. Black Browed Mollymawks cruising the swells and giving this curious craft a fly by and several Southern Giant Petrels and Portuguese men of war swimming alongside.
Total miles covered: 132nm or 244km
Hours paddling: 14hrs
Position:
S 33°00'59"
E016°10'32"
Helping to change lives, one smile at a time. I am raising funds for Operation Smile SA, for every R5500 a child receives a life changing operation and a new smile.
No of new smiles: 6
😀😀😀😀😀😀
DONATE HERE
https://www.richardkohler.co.za/wp-content/uploads/2021/11/food.jpg
479
479
carmen
https://www.richardkohler.co.za/wp-content/uploads/2020/06/RK-Logo-WHite-Site-300x227.png
carmen
2021-12-19 06:57:53
2021-12-19 06:57:53
Day 2: Blowing Chunks