What a send off. Thank you to everyone who came out to see Richard depart on this epic journey. Richard was escourted out by the paddling community as he heads West towards Brazil.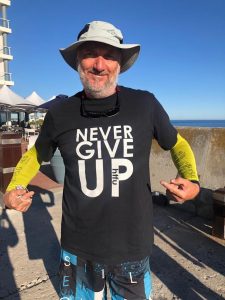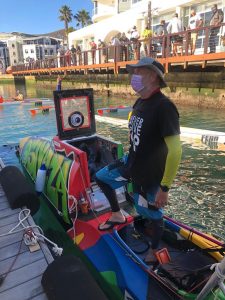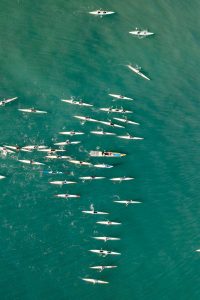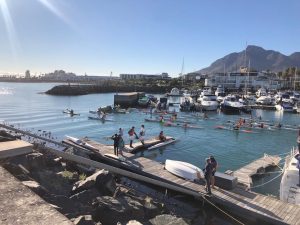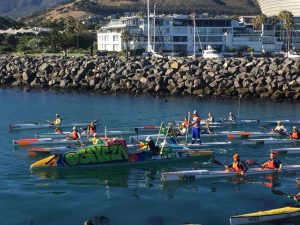 Day 1:
Started off with easy flat paddling conditions tying to get West.
SW wind picked up making the sea choppy and a side on wind. Sea gradually increased in size and the Southerly started to blow. Progress improved but started getting the occasional wave over the side.
As night fell sea and wind now SE increased.
Mostly good currents helping my progress.
Planned not to have a big paddle day on day 1 but that never worked out having done 141km on in first 24 hours.
Did lots of night time paddling to easy the sea sick feeling being down below.
Quite a busy night for traffic. AIS alarm going off every other hour.
Osiyesa goes so well through the water and her speeds is amazing.
This morning I am shattered. Every muscle aches from the constant rolling.
The swell got quite big and the peaks where crumbling all around. The wave would crumble 3 or 4 times before losing its energy. At night it sounds like a freight train rushing towards you. At least the moon was bright but that also meant you could see them coming and there is little one can do to avoid them.
Had a mini knock down during the night when one of these freight trains ran over me and Osiyeza.
Sea Life:
Lots of whales close to Cape Town. Seen plenty of seals, dolphins and have my own stowaway fish.
This morning there are more birds gliding along the swells. Will try to ID them later.
Position:
S 33°20'37.1″
E 017°02'31.9′
https://www.richardkohler.co.za/wp-content/uploads/2021/12/WhatsApp-Image-2021-12-17-at-14.34.20.jpeg
900
1600
carmen
https://www.richardkohler.co.za/wp-content/uploads/2020/06/RK-Logo-WHite-Site-300x227.png
carmen
2021-12-18 06:55:46
2021-12-18 06:58:43
Ocean X: Departure and day 1