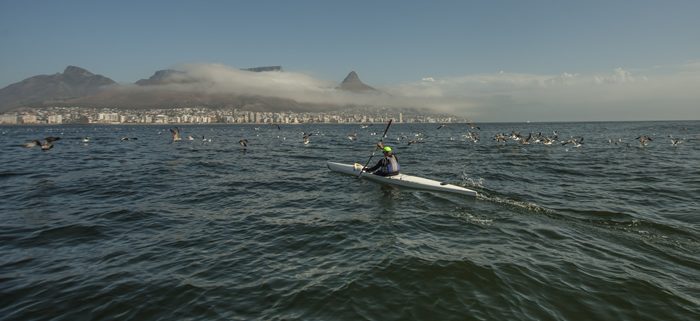 Paddle Day 20
Melkboss to Witsands 57 km 
Today I was on the water just after 5am. The swell had picked up and the tide was low so it took a little bit of timing and paddling over white water before making it to the back line. The day's plan was quite simple "The shortest distance between two points is a straight line" so I headed straight across Table Bay with Robben Island to my right. The water was once again in that oily state but this would change later. The bay shoreline was covered in the morning haze which only got worse as the city and traffic woke up. For some reason the VHF coms with Warren was not working. I found out later the external microphone and talk piece was faulty and had remained stuck on transmit which ran the battery down. We then changed to cell phone coms but I had left the Land Rover phone on silent so Warren had no idea I was calling. I then called Mark who managed to relay messages to Warren's own number which I had not yet programmed into my phone.
Teething problems like these were good to sort out in my own backyard in calm conditions.I stopped a few times to try my GoPro camera which I mounted onto a short pole so I can video myself. It is quite tricky staying upright but I think the footage came out just fine. I will post it when I get the time to do some editing.
Rounding Karbonkelberg was when things started to get a bit bumpy. There was still a 3m swell running so I opted out of taking the straight line between the rocks. Ya, I must be getting soft in my old age or maybe just like making it to the end of the day in one piece!
From here a NW wind started to blow and I got my first taste of a downwind and a broad smile was showing all the way to Slangkop Lighthouse only to disappear when I approached the point off Witsand / crayfish factory. The surf was pounding onto the point and my heart sank thinking this was going to be a tricky landing. As I rounded the point I could see that there was a clear path to the slipway with no surf at all. Pop! Smile back on!
It would have been wonderful to paddle more distance, especially with the tail wind, but there is no safe landing spots in a big SW swell before Cape Point. All in all I was happy with the day.
Paddle Day 21
Witsands around Cape Point to Buffels Bay 33km
The forecast was spot on. No wind in the early morning and then it would switch from a SE to a Westerly. The swell had flattened out. In fact it was so calm that South West reef was not breaking and rounding the point I am sure I could have touched the rocks.
Bianca Beavitt joined me for the paddle and we made a very comfortable average speed of 10km/hr. I stopped a few times to take more video of the paddle and on the False Bay side I paddled into the "cave" and got well up to the pebble beach under the cave. The water was crystal clear and I could see the bottom at least 12m down.
The last stretch to Buffels Bay the wind had switched West which gave a light head wind.All along today's route the VHF coms with Warren were working perfectly and once he even called up to query if all was OK because I had stopped off Cape Point to do some videoing and he was above me at the lighthouse. I felt like a schoolboy being busted doing something naughty! ? He told me later that he had become a bit of a tourist attraction at the lighthouse as the bus loads of punters were asking him all sorts of questions about us below.
After rounding the point I took the opportunity of paddling to the cave in the cliffs below lighthouse and then made my way to Buffels Bay. Just after leaving the cave the Westerly wind started to pick up, which was very good for tomorrow's False Bay crossing to Hanklip as it cannot be done in a SE wind.
Paddle Day 22
False Bay crossing to Hangklip 40km

Our earliest wake up call so far at 03h45 to pick up our safety duck and crew at Big Bay lifesaving club and then we had a long drive passed Simonstown to Millers point to launch the duck.
We were eventually on the water at 06h30 and the wind had started to puff. The forecast suggested a NW but for much of the paddle it blew from the North and even felt, at times, NE.For much of the paddle the North wind chop was side on and the remaining sea swell from the SW was coming from the other side which left the sea being quite lumpy, but there was always a little bump to ride, helping to keep the average speed up.
It was fantastic to have my good mate "Beetle" Bailey along for the paddle. This was his Cape Point Challenge training paddle! It had been a while since we had chatted so for the first hour I caught up on all the local news and we even joked about the big fish in this part of the world. Then a pod of seal hurriedly came porpoising past us and I turned to Beet and said: "I don't like seeing this! It's often a sign that something may be chasing them."
Shortly afterwards the safety boat drew alongside and Derrick told us that there was a pod of Killer whales coming our way. Mmmmmmm this could be tricky. What to do? First thing was to make sure Beetle was between myself and them – lol
What magnificent creatures. They sped past us only a few boat lengths away. Not even giving us a second glance. I am sure they had those seals in their sights. We guessed that there were about fifteen Orca's in the pod and I also spotted a juvenile. I believe the males are the ones with the bigger dorsal fins. When they are about to break the surface the fins look like submarine periscopes cutting through the water. Definitely the highlight of the trip so far!
The deal with the safety boat was that if they saw something that was of concern they were to come along side me ASAP. I mentioned this to Beet and he agreed that that was a cunning plan. A while later the rubber duck came motoring towards us and without saying a word Beetle and I paddled close to each other in anticipation of the next thing in the water, only to be told that we were now half way!
In comparison the rest of the trip was pretty uneventful. The last hour the wind and swells lined up a lot better and we were treated to some great downwind conditions until we passed the Hangklip lighthouse and turned into Masbaai for a short upwind to the slipway where Warren was waiting with the Land Rover and boat trailer.
Paddle Day 23
Hangklip to Hermanus 43km 4hrs 45min
Last night we stayed at the legendary Hangklip Hotel and were met by chef Eugene who coincidently was born with a cleft palate. At this stage the wind was howling around the mountain and the sea was covered in spray. The forecasts indicated that the wind would start subsiding the following day by 11am and then switch to SW in the late afternoon. The day's plan was to go paddle to the slipway at Hawston, a manageable 30km.
We did not stay in the hotel bungalows but in a private two bedroom holiday house. What a great little place it was with a cool collection of vinyl records plus two turn tables. It's such a pity we don't get to spend much time at each spot to really make the most of what they each have to offer.
It was Warren's first dinner duty and he served up a gourmet creamy cheese, spring onion and tuna pasta with a glass of red wine. It sure hit the spot. Knowing I did not have to be up at 04h30 I hit the sack after 10h00. As I am in a routine, I was awake by then anyway, only to hear the wind was still giving its all.
Later we decided to drive to Bettys Bay to look at the slipway in case the wind did not slack off and I wanted to use this as a get out point. Then it was to a coffee shop to wait for the wind to do its thing which it started to do around 11h30.
Back to Hangklip and onto the water by 12h15. Leaving Masbaai had a few interesting moments as I had to avoid the big swells breaking on the outer reefs. Once I rounded the point I headed towards Bettys Bay. Along the rocky shoreline the sea got very lumpy with the bounce-back and progress was a little slow. I also think I was fighting a bit of head current.
There were lots of penguins around and the water had these dark spot all over it. Some spots as wide as 50m. After going over one of them I realised that these were schools of bait fish. Now I know when you have little fish you get bigger ones eating them and then bigger ones eating the big ones etc….. you get where I am going with this…. I do not like paddling over bait fish!!!
I was surprised not to see any fishing boats taking advantage. Maybe they were all out looking for perlemoen!!!
Most of the time I try to paddle along the shoreline which offers the quickest option to get off the water if there are any issues. The evening before, Warren and I study the coastline and decide on possible exit points for myself and the positions that he must go to, to follow me. Yesterday he managed to keep me in his sights for most of the day, thanks to the coastal road being slightly elevated.
Before I got to Hawston I decided to push on to Hermanus while the going was good. After advising Warren, he told me Louise Fick from the Kleinmond tourism Bureau had tracked him down at the Kleinmond slipway and had given him a Cape Whale Coast Cap and Kogelberg Biopshere Guardian T-shirt for me. Nice one, thanks Louise!
Another surprise was Kevin Weaving (GPS Tracking South Africa (SA) Fleet Management [my backup GSM tracker]). He is a schoolmate of mine whom I have not seen since school days and he joined Warren at the Hawston slipway and followed us the rest of the way to Hermanus. It was lekker to catch up with him at the harbour after the paddle.
All in all it was a good day on the water. Saturday is Judy's Birthday and Sunday the swell is over 6m so I will take these as rest days and then plan to get passed Gaansbaai on Monday.
Paddle Day 24
Hermanus around Danger point to Kleinbaai 43km
Last night we were fortunate to stay in the Windsor Hotel in Hermanus.
A lovely place overlooking the bay and I could see the conditions by glancing out of the window.
Kevin Weaving from GPS Tracking South Africa has been our shadow for the past few days has escorted Warren from view point to view point making his life a lot easier. It is wonderful meeting people like Kevin. There are good people out there ?
I was on the water at 06h00 from the new harbour. I had the option to paddle straight across the bay which would have been about 10km shorter but I am sticking to my safety rule of following the shore line unless I have company. The first leg was towards the main beach was a great way to start the day. Swells and wind from behind ?
Paddling behind the breakers following the beach to Gaansbaai also turned out to be a good leg. With a little bit of a following bump caused by the swell reflection off the cliffs at Hermanus. The swell was still running at 3.5m and a couple of times I had to make haste to get seawards to avoid being dumped by the occasional rouge wave. In the end I stayed a fair way off the back line.
Once I was on the Gaansbaai side of the bay and heading into the swells towards Danger Point my progress slowed significantly. I was treated to some common dolphins and a whale near the point. As I approached the point I was feeling quite confident as the sea felt calm. I could see the swell breaking on the reefs off the point but how bad could it be!
Danger Point – I now understand how it got it's name!
The further off the point I got the bigger the swell seemed to get. There was a swell running in from straight ahead and one from my left. When the two met and peaked the crest would crumble into a massive rolling ball of white water big enough to break my boat. This appeared to be happening all around me and at random! GET ME OUT OF HERE!!
I had to paddle almost 2km SW, straight out to sea, to get beyond the reefs before I could think about turning the corner. It was a very long, lonely and nervous 2km's. Up and down keeping a weary eye out for the breaking crests. Eventually I started to turn only to see another reef, which I later discovered was the Birkenhead reef [see foot note]. I made a line to go around it. At the last minute I decided I had had enough and sneaked on the inside and started to make the most of the tail wind and following sea to Kleinbaai. This leg was covered with blue bottles and at times i had to just drift to get passed them so my paddle would not pick them up and fling them onto me.
Approaching Kleinbaai I was very glad to have the assistance of the harbour master to guide me in. In fact I almost came in too soon and would certainly have been banged up in the surf and kelp. It is a tricky entrance with the big swell running and every now and then a wave would break right across the main channel. In the end I came in without any issues.
Arriving at the slipway I was surprised to get a round of applause. A group of people who had been tracking my progress come down to see me paddle in. Here I met the resident marine biologist team from Marine Dynamics Shark Tours, Michelle, Oliver and Alison. Michelle quietly asked if I had seem any of the Great Whites Sharks today. To which I said NO! "Oh!" she said, "well I can tell you they saw you"…….mmmmmm
The local press were also there and once the pictures and interview were done we were invited up to the Great White House for a cupa java. Ah! A big cappuccino, comfy chair and a lekker long chat. Marine Dynamics have agreed to escort me through shark alley (YAY) when I head off next. But not before they put us inside a cage, under water, and get a Great White Shark to swim past!!!! I may be coming face to face with my biggest fear.
Good or bad thing? I will let you know……..
[HMS Birkenhead, also referred to as HM Troopship Birkenhead or steam frigate Birkenhead, was one of the first iron-hulled ships built for the Royal Navy. She was designed as a frigate, but was converted to a troopship before being commissioned.
On 26 February 1852, while transporting troops primarily of the 74th Regiment of Foot to Algoa Bay, she was wrecked at Danger Point near Gansbaai on the outskirts of Cape Town, South Africa. There were not enough serviceable lifeboats for all the passengers, and the soldiers famously stood firm, thereby allowing the women and children to board the boats safely. Only 193 of the 643 people onboard survived, and the soldiers' chivalry gave rise to the "women and children first" protocol when abandoning ship, while the "Birkenhead drill" of Rudyard Kipling's poem came to describe courage in face of hopeless circumstances]
https://www.richardkohler.co.za/wp-content/uploads/2020/03/6-1.jpg
400
700
richardkohler
https://www.richardkohler.co.za/wp-content/uploads/2020/06/RK-Logo-WHite-Site-300x227.png
richardkohler
2012-11-26 15:42:29
2020-08-19 09:55:59
Paddling Update day 20-24