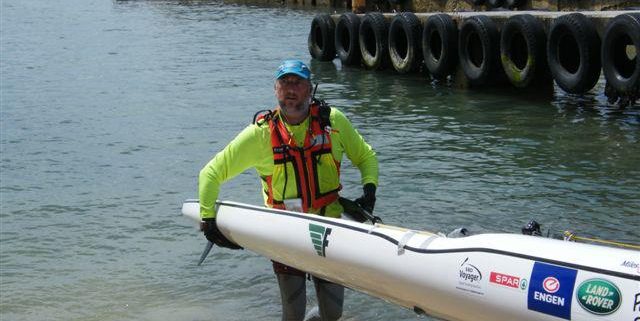 Shark Cage Diving

How does Richard confront his fear of the Great White Shark especially since he will have to paddle across "Shark Alley", Dyer Island tomorrow.
He goes shark cage-diving!!!
Thank you to Marine Dynamics shark tours who gave Richard and Warren an opportunity of a lifetime to see these creature up close and personal on their cage-diving boat, Slashfin.
"What an experience! Such a professional group of people and so knowledgeable. We saw more than ten different Great White Sharks. I cannot believe how many sharks there are out here. Strangely enough, I am far more at ease after my time with the Marine Dynamics team" said Richard.
Marine Dynamics also gave Richard an escort when he paddled from Kleinbaai to Die Dam via "Shark Alley."
Paddle Day 25:
Kleinbaai to Die Dam 45km 4hrs 15min
Last night we stayed in the Marine Dynamics cottages so we could roll out of bed and down the road to the slipway. Zzzzzz Zzzzzz Zzzzzz was the cell phone alarm clock as it vibrated around the bedside table at 04h15. Not sure why I bother setting the thing as I am always already awake.
45 minutes later I was paddling backwards away from the slipway. Done this way to avoid damage to the rudder! The maddening SE winds of the past week had finally disappeared and was replaced by very calm conditions but this came with fog that got thicker as the morning progressed.
Marine Dynamics put their 8 meter RIB, Calypso, and a 3 meter RIB on the water all to look after me as I paddled pass "Shark Alley" which lies between Dyer Island and Pearly Beach. The fog eventually got so thick that the visibility was down to 10 meters (I am sure what ever was under the water could see me no problem). I had to back out of one channel through the kelp to take the one next to the island which is a wider and safer option for the boats. I was amazed when I saw the GPS tracks going so close to the Island, I never even saw it!!!
My compass had blown off my boat while driving to Gaansbaai into the South East wind and I only noticed this just before launching which left no time to reattach it. Not having the compass left me very disorientated when the fog was its thickest. At one point I was heading 90 degrees off course and had to be redirected by Calypso. After that I swapped positions and chose to followed them instead.
The first time I saw land was a glimpse of Quoin Point peeping through the fog. It was about here that Calypso with Michelle and Oliver on board had to turn back for Kleinbaai. Dickie in the small RIB carried on the rest of the way. By the time I turned to head towards Die Dam the Westerly had started to blow and increased in strength rapidly.
Beaching at die Dam was relatively simple, I just had to avoid a few blinders and beach in 2 inch surf. Being a small RIB it joined me on the beach and in a few minutes it was on the trailer and towed off with Wilfred behind the wheel of his Landy 90.
Camping tonight at Die Dam and tomorrows plan is a 05h30 start to go around Cape Agulhas and to Struisbaai. Paul Moxley and Bryan Allott are driving up from Cape Town in the wee hours tomorrow to join me around the most Southern point of Africa.
Paddle Day 26:
Die Dam to Struisbaai (Cape Agulhas) 40km 4h36min
At 5am this morning I got a text message, "My GPS says I be there at 05h11". Paul Moxley had left Cape Town early this morning to join me for the days paddle. I like it when people step out of their routine and do something different. He said later on the water that he could have come up with 100 reasons not do do it, but he didn't because paddling around Agulhas is special.
We set off a little after five thirty and paddling out onto a calm sea and no wind. The swell had dropped down to 2 meters and having some company made the choice to cut across the bay to Agulhas easy. Our pace was a very comfortable and the conditions just got better as the morning progressed. 
The highlight of today has to be that I have just paddled around the southern most point of the African continent, Cape Agulhas! Having sailed past many times I know how rough Agulhas can be, but today it was perfect.
By my calculations, which are dubious at the best of times, I have paddled 1/3rd of the distance around the country! How lekker is that?
Paul treated Warren and I to a fish and chips brunch from the local caravan vendor in the harbour. He also put us up for the next few days on his farm near Die Mond in a big old Cape Dutch farm house. Braai time tonight!
Tomorrows plan it to paddle to Arniston. Wednesday looks like a non paddling day with strong head winds. We will make it up with a radio interview in the morning at Radio Overberg 98.4fm in Bredasdorp.
4 December 2012
At 08h30 today our Land Rover was the most southerly Land Rover on the African continent. In fact of any type of vehicle!!!!
5 December 2012
We were privileged to spend some time on air with Alan Rosenmeyer of  Radio Overberg on his Actuality and Marketing Show, daily from 08h00 to 09h00. What a lot of fun. I will share the podcast when we get it. Thanks Alan & Pof.
https://www.richardkohler.co.za/wp-content/uploads/2020/03/20121126-Kleinbaai-12-e1594281937592.jpg
450
600
richardkohler
https://www.richardkohler.co.za/wp-content/uploads/2020/06/RK-Logo-WHite-Site-300x227.png
richardkohler
2012-12-18 18:13:40
2020-08-19 09:44:09
Paddling Update day 25-26