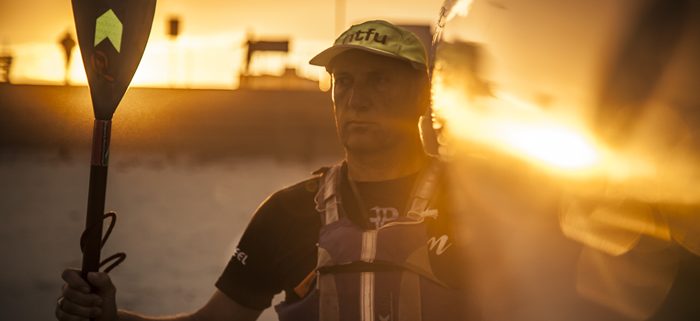 More than 20 paddlers from around Cape Town joined Richard Kholer as he paddled in to Granger Bay in Cape Town.  Amongst them was Jade Carstens. Jade was born with a cleft palate which was corrected after seven years, "He (Richard) has no idea how great it is, what he is doing, I never thought people knew or cared about this," said Jade.
With Richard within striking distance of Cape Town, tourismZA, decided to step up the exposure for the expedition.  Try as we may, we could NOT get the green light for a single, lone paddler to paddle into Cape Town harbour. It seems that the logistics of getting a single paddler into Cape Town harbour with only one week's notice is an insurmountable logistical task for Cape Town port control. Fortunately, Oceana Power Boat Club at Granger Bay came to the rescue and invited Richard and everybody who paddled the 6.5km with him from Milnerton to Granger Bay. The idea was to step up the exposure for the Paddling for Smiles expedition and use the reception as a platform to draw media attention to a lone paddler, who, against all odds is persevering through an endeavour that is nothing short of a herculean undertaking.
The event was to draw attention to the plight of children born with cleft lips and palates and raise funds to perform corrective surgery on them.
For every R5,500.00 donated to Operation Smile South Africa we can facilitate corrective facial surgery on a child and give them their God-given right to a smile.
Thanks to the efforts of tourismZA and Richard Kohler, we were able to raise over R10 000.00 towards the Paddling for Smiles Expedition. A complete list of all who contributed is available here.  This list is updated weekly.
tourismaZA would like thank all the fantastic people of the West Coast for assisting and providing accommodation for Richard and the Paddling for Smiles Expedition as he made his way to Cape Town.
We are still very far from the target of R1 000 000.00, which is going to take a huge effort on the part of everybody involved to make this a reality. We look now to the East Coast of South Africa and the next part of this epic journey.
https://www.richardkohler.co.za/wp-content/uploads/2020/03/10-2.jpg
400
700
richardkohler
https://www.richardkohler.co.za/wp-content/uploads/2020/06/RK-Logo-WHite-Site-300x227.png
richardkohler
2012-11-17 15:21:03
2020-08-07 10:38:44
Milnerton to Granger Bay Paddle 17 Nov 2012