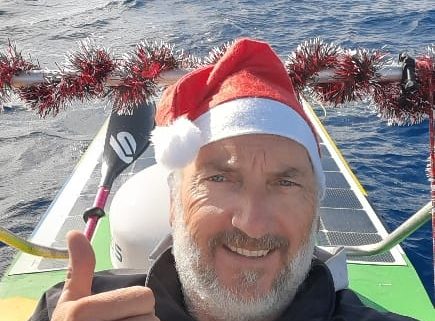 Day 9
🎅🥳🎁🎄🍾🥂
Christmas Day. A time to be jolly.
Well, I certainly hope you all had a wonderful day with friends, family and loved ones and you ate sufficiently enough to fit the next size jean pant. Don't worry about it. You will make up enough New Year resolutions and be back to your new old self again in no time.
Me! What did I do? I am guessing other than paddling because you know that takes up most of the day light. In the early hours I was keeping eye out for a yacht called ROXY that had just left Cape Town and was now right on my tail. I was half hoping that we would pass in the daylight and perhaps they would offer a Christmas treat or at least a cheer.
Unfortunately, it was 03h00 local time and they came only as close as 2.5miles. All I saw of them was their red port light get closer, it eventually changed to white as they sailed away. I thought about calling them on the radio and decided that if they wanted to chat, they would call me up.  So, we never spoke.
Later I watched the sun struggle to make an appearance through the clouds. Waiting for the first glimpse to welcome it to my Christmas day with my "morning sun" routine.
Sleep was a not easy that night. Maverick had been getting more and more noisy till I could no longer take it. Maverick was grounded! Handed in his wings. I switched over to Goose. Goose has only a single hop under his belt. Basically, brand new.
Whether it was the workload, which was not much as Osiyeza was just drifting in the breeze, or he knew his wingman was grounded. Goose too gave up the ghost!
Merry Christmas to me😩
More on Maverick, Goose and the voices later.
What would the day be without a Santa video? Had a chuckle to myself went an hour after taking the video I realised I still had the hat on. 🎅 I suspect that's the reason my👃is a bit redder than normal cause it isn't from any tipple.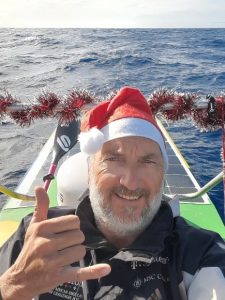 I got to phone Judy (my first wife) and her family. I spoke to mine the evening before. So wonderful to hear them all having a fab time. I admit it made me feel jealous and had a brief ponder on what the fok I was thinking and doing here. Emphasis on "brief."
So, to spoil myself I had a fresh water full body wipe down. Double dipped the bum cream. Changed into clean clothes for the first time since getting dressed the morning of departure. I feel like a million bucks.
Next, I fetched the next 7 days' worth of food from the aft hatch to the cabin. It was just like opening Christmas presents.
Treats:
2 bags of biltong (Chilli and regular wet fatty beef)
Dorewors
A big bag of pork scratching.
A 0.5kg mixed nuts
7 x little sugar free chocolate.
Macadamia Butter Nutt
Who can guess which one of these I opened first?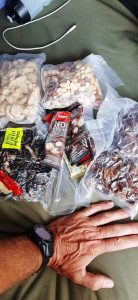 Thank you to everyone who commented and wished me a Merry Christmas. I try to read them all, reply or give a 👍
Bird of the day:
Southern Giant Petrel
I have seen them almost every day. They do flyby's when they see Osiyeza. Often doing more than one but occasionally they miss time it and must pull up at the last second. Very funny for such a graceful bird.
Total distance paddled: 1071km (176km today)
Average speed: 7.7km per hour
Position:
S 28°34'06"
E010°55'44"
Total riased for Operation Smile: R87,187 (15 smiles)
https://www.richardkohler.co.za/wp-content/uploads/2021/12/WhatsApp-Image-2021-12-26-at-08.03.04.jpeg
581
435
carmen
https://www.richardkohler.co.za/wp-content/uploads/2020/06/RK-Logo-WHite-Site-300x227.png
carmen
2021-12-26 10:15:31
2021-12-26 10:15:31
Day 9: Christmas Treats