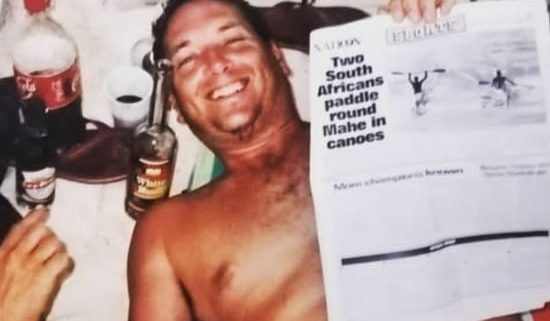 This is not my first time taking a kayak across an ocean.
It is in fact, the 4th time!
The first time was a trip to Seychelles with Martin Coetzee. We each took a surf ski and lashed onto the guard rails. Each day we would jump off the yacht with a ski and go for a paddle. We also paddled wherever we stopped, like in and around Nose Be, Madagascar. We also pulled a lure behind the ski and caught some small fish.
Once in Seychelles, we took a day to surf ski around the main Island, Mahe. It's about 80km and was the furthest I had paddled before in one day. We also made the sports page of the local newspaper. 🗞

Another time was a crossing; I think it was to the British Virgin Islands. Beetle Bailey, Bryan Cockrell and non-paddler Alasdair McArthur came along as crew. This time we shared one ski and did the same thing all the way across the Atlantic to the Caribbean. On light wind days, we would paddle way off ahead of the yacht, and on the windier days, we would sit and ride the yachts slip so as not to get left behind. This trip has a lot of wonderful stories that need to come out one day. 😜
The last trip a few years back was one across the Indian Ocean to Thailand. I was the only paddler, and unfortunately, with an inexperienced crew and an owner I did not trust. My paddling was limited to the calmer days when I was quicker than the yacht. 🙃
Another of the Oyster Yachts passed about 10nm north of me. Unfortunately, they were not in a great position to come down to me, so I did not make contact.
I spent much of yesterday evening trying to avoid getting caught up with longline fishing gear. These fishing boats stretch their main line out over 100km in length. There are little buoys spaced every few kilometres to keep the line from sinking. These buoys have AIS to show their position but are poorly maintained. When the sun sets, half the AIS units go dead.
Hundreds of baited hooks are dangling from this long line that catches anything and everything.
These buoys move around a little slower than I was going depending on what the fishing boat is doing. Pulling them up or dropping them off.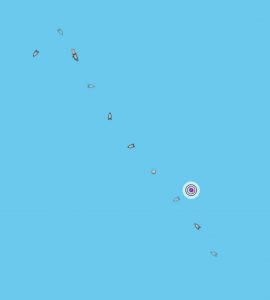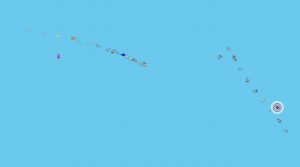 I have heard of a yacht that got hooked on one of these buoys and got dragged around through the night, and it eventually sank! I met one of the crew members who told me the story. Bizarre and a little frightening.
I was trying to negotiate my way between two of these buoys when the sun set, and they vanished from my screen. About an hour later, I spotted one of the buoys just 50m on my port side, and a while later, the fishing vessel came down the line picking the line, and its catch up.
I can't fathom how bloody long the line is. There are a few of them around here, indiscriminately wiping out the ocean. 😡
Coordinates: -15.197350° lat -26.232420° long
With only 2 weeks to go Richard has less than 1500km to paddle. That's definitely something to smile about. To show your support, sponsor a smile and help him reach 70 smiles before he gets to Salvador.
Click
here
https://www.richardkohler.co.za/wp-content/uploads/2023/02/WhatsApp-Image-2023-02-06-at-09.49.211.jpg
645
550
carmen
https://www.richardkohler.co.za/wp-content/uploads/2020/06/RK-Logo-WHite-Site-300x227.png
carmen
2023-02-06 08:08:17
2023-02-06 08:08:17
Day 49: Previous kayak ocean crossings