Besides the usual blogs, pictures, video, weather, routing, shipping and power system checks with the shore crew, Albert has kept me in the loop regarding the Governor's Cup, a yacht race from Cape Town to St Helena Island.
I have been hoping to catch a glimpse or, better yet, a wave from anyone in the fleet as they sail past little old me.
Last night one snuck in front of me, and one went behind, but none were close enough to see or call on the VHF radio. Only one possible chance remains, Suidoos II. Even though she has retired from the race, she is still en route to St Helena Island for a meal and ice-cold beer 🍺 at Anne's place.
Interesting story regarding Suidoos. My Router, Rob, was bringing a yacht back from Rio (1995?) when Suidoos (I) took on water and sank. The stricken crew were plucked from the ocean by non-other than our own, Router Rob.
The skies cleared this afternoon, and the wind went a little more East and calmed down to 15kn. After a while, the sea accepted this by reducing the number of white horses.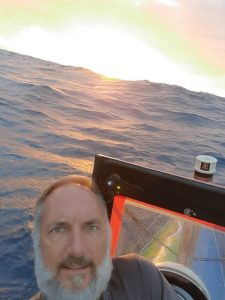 All in all, it was a classic day at the office. The miles keep on ticking over. Good current and a cheeky swell in our favour. The main swell is the SE-driven swell, and the SW swell from deep down south. Now and then, the three different swells would fall in sync, and the sea would jack up for a moment but long enough to toss a ton of water onto my lap. Quite amusing if you let it be.
My back still aches, but that's nothing new. If it gets problematic, I have some good smarties I can take that should help.💊
I want to let you in on a secret. A personal challenge, but please remember it's a secret between you and me, so 🤐.
I would like to see if it's possible to improve on Zirk Botha's 💪 time he posted for his row across this ocean from Cape Town to Rio. He averaged 100km/day. Osiyeza is narrower, longer, and maybe lighter, so she should be quicker, in theory.
Time will tell (but you mustn't 🤫)
Kayak vs 🚣‍♂ who's it gonna be?
Patriot Pete is now the one stuck to his mobile device. Thankfully not with a dating app, but getting updates on the cricket 🏏 test between South Africa and Australia.
He has a couple of cases of beer on the line with his mates back home, and he does not like to lose.
He tells me, "Australia are 475/4 and firmly in the pound seat. Proteas to bat next. Rain is predicted, which could screw things up. If there is no rain, we could see some good cricket."
I don't share his optimism and fear another week of gravel lips 👄 in the making for poor old Pete.
Co-ordinates: -21.653930° lat and 1.106270° long
Incidentally, also on the last day of week 3!
Breakfast: scrambled eggs & bacon 🍳🥓 & coffee
Food: butter Chicken & noodles
Junk: hard-boiled sweets by the ton
Black Browed Mollymawk did a few fly by's
https://www.richardkohler.co.za/wp-content/uploads/2023/01/WhatsApp-Image-2023-01-07-at-08.16.41.jpg
675
1280
carmen
https://www.richardkohler.co.za/wp-content/uploads/2020/06/RK-Logo-WHite-Site-300x227.png
carmen
2023-01-07 07:29:01
2023-01-07 07:36:40
Day 19: The world carries on without me