The days and conditions seem to be blending into each other. Paddle, eat, sleep and repeat. I am thankful for the recent cloud cover, which keeps things a bit cooler.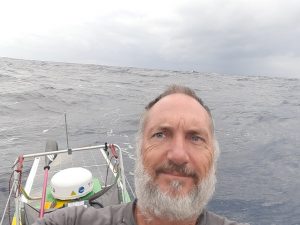 Young Tighthead has been wandering around all day glued to his device. I saw him and Patriot Pete looking at it together a few times earlier.
Wondering what the deal was, I asked Tighthead what it was on his phone that held all his attention today. He just mumbled, "it's nothing", and went off the other way.
While contemplating lunch, Patriot Pete squeezes into the galley to grab something for himself. I took the opportunity to ask him what was up with Tighthead and his phone.
Pete giggled at first, but when he saw I was still looking at him, he said, "Tighthead caught a glimpse of Nurse Honeydew using Tinder and ever since, he has been waiting to see if he would get a match with her. It's driving him crazy."
Just what we need. I am a little concerned about the group dynamics. Will Young Tighthead be a grumpy boy if he does not get a match with Nurse Honeydew, and if so, for how long? Worse yet, what if there is a match? Oh my! Let's see how this one plays out.
Not much grabbed my attention for lunch, so I just ate some biltong and a Jungle oats bar while staring out at the white caps spread over the vast ocean.
The sea state is not all that impressive, but travelling across it instead of with it completely changes the game. Lots of white caps are breaking over the side and pushing Osiyeza about. It's a pretty uncomfortable affair all around. Yet for all this, we are still managing to make good towards Brazil.
I stood on the blue clip that kept the water from flowing out of the water bladders. It's the only flaw in my otherwise brilliant plan. It's strange how the mind works, but it took me a few minutes to realise that my feet were in the water and something was wrong. Almost 3L of fresh water was wasted, but the cabin sole appreciated another good rinsing. Note to self: don't leave the clips on the floor. ( Too many notes to keep track of now)
I try and have a good wash at least every second day. This I take outside, seated in my paddle chair. I am using between 2 & 3 litres of water to scrub and rinse off the shower gel. I hook one of the water ticks to the roll bar, and water comes trickling out as long as I am below it. Ah, lovely fresh water. As long as my watermaker keeps on doing its thing and the batteries are fully charged, there is no reason I should not smell of roses.
Unfortunately, Cyril, who kayaked from mainland USA to Hawaii earlier this year, had watermaker issues and had to hand pump most of the way. Not sure how many showers he was able to afford himself.
While eating dinner, I usually stand and watch the sea and the setting sun. Last night it was still pretty lumpy and had a lot of spray around, so I stayed inside and looked out through the washboards. A bit like watching a nature channel on TV, only better.
First charging cables to die. I have three spares of each type, as a single drop of seawater can corrode the little pins in no time. This cable did not suffer corrosion, but I bent it when a wave shoved me against the side wall.
Co-ordinates: -21.707130 2.282130
Food: Lamb Tangine with rice
Storm Petrels and flying fish
Raised for Operation Smile: R173,479
New smiles: 31
https://www.richardkohler.co.za/wp-content/uploads/2023/01/WhatsApp-Image-2023-01-06-at-08.00.03.jpg
946
1261
carmen
https://www.richardkohler.co.za/wp-content/uploads/2020/06/RK-Logo-WHite-Site-300x227.png
carmen
2023-01-06 08:10:51
2023-01-06 08:10:51
Day 18: Paddle, eat, sleep and repeat