Procrastination
It literally feels like yesterday when Smile FM Radio announced live on 13 May 2019 that I was going to kayak solo and unassisted across the Atlantic Ocean. Much has happened since then, but this story is to pick up on the latest update around the actual design of the OCEAN X KAYAK.
Fast forward to post-Covid and the 13 August 2020 …
Almost to the day, eight weeks ago, I was having coffee at my local shopping centre with a well-known yachtsman, Nick Leggett, and while I was trying to convince him to join the team and offer his weather routing skills, a friend, Shaun Ferry, popped over to say hello.
Shaun asked for the latest news on the kayak design and build. I told him that I was still looking for the best boat builder to fit my needs and that I had been in contact with several possible options but had nothing concrete. He casually asked if I had chatted to Richard "Thirsty" Bertie?
Keep in mind that I am a terrible procrastinator, of the worst kind!
"No, not yet. But I was going to," I replied.
Shaun is not a procrastinator. He just took out his phone and called Thirsty then and there. After a quick chat. he passed the phone over to me and said: "Here you go, speak to him."
That was the start of what I needed to get Ocean X back on track.
Later that day was the first time since July, when my friend, kayak builder and designer Uwe passed away, that I was able to get access to his laptop to see if I could find a copy of the design drawings. Unfortunately, all that I could find was a single CAD file. Most of the latest design discussions and modifications never made it to this file. Check out my blog post from June here.
A week later I met with Richard in Noordhoek to seek his assistance in the construction of my kayak. I think it took him a few long minutes to digest what I was planning and whether I was a complete nut job, or if there was something more to it.
I am very pleased to say he became quite intrigued by the whole idea and by the time we had said our farewells he had contacted someone to do the build. He also contacted a good friend of his, a yacht designer by the name of Phil Southwell, and convinced him to spare a few hours to complete the design that Uwe had started.
I remember driving home over Ou Kaapse Weg and thinking how amazing that short meeting was. The kindness, honesty, enthusiasm, and knowledge that Thirsty was going to bring to the team gave me the huge boost that I so badly needed.
The Designer
Phil Southwell sailed into Cape Town in 1981 and has been in South Africa on and off ever since. He designed with Lavranos & Associates for almost seven years, gaining the required experience after completing his degree for membership of the Royal Institute of Naval Architects. Phil Southwell established Southwell Yacht Design in 1989 and he designs exclusively in 3D.
I finally met Phil the following week. I had sent him a few screen shots of the CAD drawings beforehand and must admit that I felt a little out of my comfort zone. Uwe was a good friend and we talked openly and debated each concept of the design until we were both happy with each item.
I had never met Phil before. I knew of his reputation as a top-class designer. What I did not know was to what extent he was willing to assist. I should not have been concerned. Phil has put in countless hours into the design and is a remarkable talented designer.
In the past five weeks we have taken the original drawings and have gone through another 10 versions/design changes! We have a design/build team meeting weekly and when I listen to Phil, Thirsty and Dylan discuss how each aspect of the design fits into the reality of the construction, I sit back and smile quietly to myself knowing I have the best of the best on my side here. Well, it's actually because I have no idea what they are talking about! ?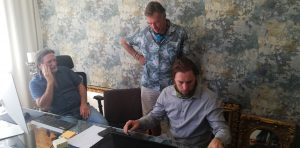 ABOVE: Phil, Richard, Dylan discussing stuff I don't understand.
The design
The basic dimensions of the Ocean X kayak are 8m long and 94cm at my paddle entry. The rudder is transom hung and will knock up if it collides with anything. I prefer the transom rudder to having a rudder shaft running through the hull from a safety aspect and accessibility should anything need attention.
For increased stability and weight reduction I have opted for a short lifting keel with a lead bulb (30-50kg) versus using water ballast in the hull. There is a compromise between using the weight of water ballast versus the drag of the keel. I feel confident that my design is on the correct side of this equation.
The keel box has been designed to absorb a collision with an object or beast. It has compression/absorption zones fore and aft as well as shear pins. If the keel was to fall off, then I have the backup of using water ballast bladders for extra stability.
In the front of the hull there is a lifting canard (skeg). This will be pulled down only when there is wind from the side. The windage on the cabin, which is in the front, will cause the bow of the kayak to blow away from the wind. The canard will help counter this action.
The kayak is of a carbon core construction and should weigh in at around 85kg without the lead bulb of the keel. The maximum overall weight of the kayak, gear, food and I can be no more than 400kg. Obviously less is better but to take enough equipment and supplies to keep me alive for up to 80 days does not come without its weight challenges.
See below for a snapshot of the design progression starting with my own crude drawings to Uwe's and finally with Phil's perfection that goes into manufacturing today.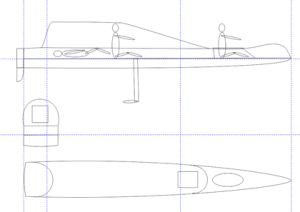 ABOVE LEFT: These are my first drawings.
ABOVE RIGHT: Uwe's CAD drawing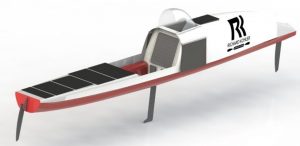 ABOVE: Uwe design 3D render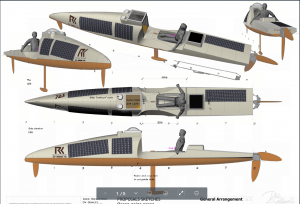 LEFT: Phil Southwell design. Solar panel placements and sizes to change.

ABOVE: Here you can peek inside and make out my bunk. The bulkhead forward showing the sealed compartment containing the lifting canard. In front of this will be a crash bulkhead and a sacrificial foam filled "nose cone". The aft hatch is for the food and spares storage.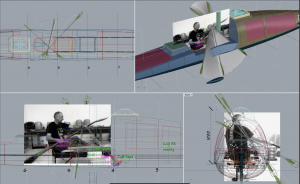 ABOVE: Overlaying my paddling stroke to perfect the cut-away on the side of the deck and the cabin.
Craft build starts next week so should be complete by December, allowing me a few weeks of testing and training before I hit the open seas.
Keep watching this space for the exciting build progress as we get closer to departure date.
https://www.richardkohler.co.za/wp-content/uploads/2020/10/solar-panels.png
718
1830
carmen
https://www.richardkohler.co.za/wp-content/uploads/2020/06/RK-Logo-WHite-Site-300x227.png
carmen
2020-10-08 12:22:28
2020-10-22 06:30:43
Craft Design 2.3 or is it 10.2? (But this is THE ONE!)