Navigating my way across the Atlantic Ocean from Cape Town to Salvador in Brazil is no mean feat, and in order to achieve my heady task I will need a few gadgets and safety essentials to ensure my Ocean X journey goes according to plan.
Here is some of the safety items I will need to paddle on this mammoth adventure:
Life Raft
First and foremost, this is a lifesaving essential that I hope to get my hands on soon. It's a Switlik Inflatable Single Person Life Raft (ISPLR) and they are mostly used in the aviation industry. It's compact and lightweight (2.8kg) – the only option for a craft as small as mine. But they come with a hefty price tag, so if anyone has one that they are not using for a few months I would be most appreciative.
EPIRB & PLB
There will be an EPIRB (emergency position-indicating radio beacon) and a 2 x PLB (personal locating beacon). Both work in similar ways but the EPIRB will transmit for a longer time (48hrs) due to its battery size.
An EPIRB is a safety device to alert search and rescue services, allowing them to quickly locate you in the event of an emergency. When activated it transmits a coded message (GPS position – Boats or Persons details etc) on the 406 MHz distress frequency, which is monitored by the COSPAS-SARSAT satellite system. The alert is then relayed via an earth station to the nearest Rescue Coordination Centre. The satellites are in a polar orbit, so they offer true global coverage.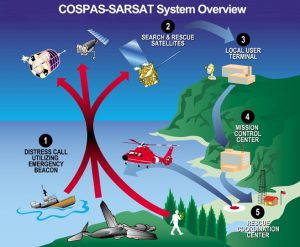 ABOVE: How an EPIRB works
A PLB is a specific type of EPIRB that is typically smaller, has a shorter battery life, and unlike a proper EPIRB is registered to a person rather than a vessel. With a PLB you can summon help wherever you are on the planet, no matter how remote.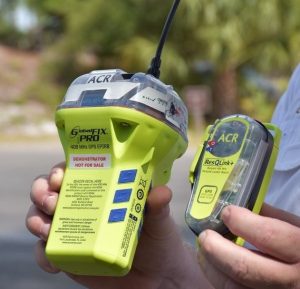 ABOVE: Example of an EPIRB & PLB
Satellite Telecommunications
I will have an Inmarsat Satellite phone that will enable voice calls depending on the need like radio interviews, advice on repairing a piece of equipment or emergency services.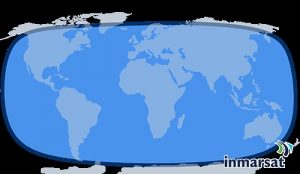 The Iridium Go allows me to make voice calls and text messaging via a smartphone. It also has other capabilities like a basic email service and will be used to receive my weather updates. It is one of the three tracking units on board.
GPS Tracker
There will be another two dedicated GPS trackers on board that will transmit my position, direction and speed to my shore team at defined intervals. These intervals are set depending on the likes of power consumption. My track will be automatically uploaded to my webpage for everyone to follow in real time.
AIS
The Automatic Identification System (AIS) is a digital VHF radio-based transponder system that can prevent collisions, and more importantly, protect me from being run down by a huge, fast-moving ship!
Picture a radar-chart plotter display, with overlaid electronic chart data, that includes an icon for every significant ship within VHF radio range, each showing that vessel's speed and heading. Each ship icon reflects the actual size of the ship, with positions accurate to GPS precision. By "clicking" on a ship mark, I can learn the ship's name, course and speed, classification, call sign, MMSI, and other information.
The system's range is like that of your VHF radio, essentially depending on the height of the antenna. AIS information is not degraded by rain-clutter like radar, so it works the same in all weather. AIS is extremely valuable, especially at night or at times when there is restricted visibility.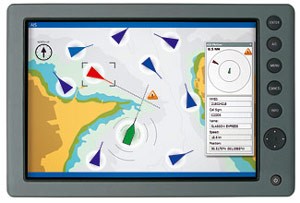 Body Leash
When outside I will always be attached to the kayak by a 10 ft body leash. I will use either a waist or leg leash depending on what I am doing.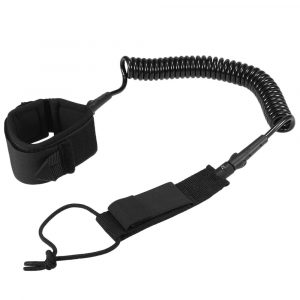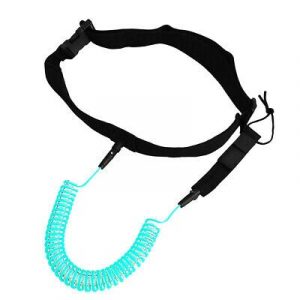 ABOVE:  Leg Leash (left), Waist Leash (right)
Life jacket
I will have an inflatable life jacket seen in the image below. My second PLB will be permanently attached to the jacket.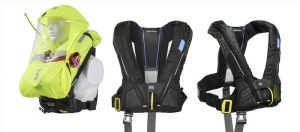 Flares
I will carry various signal flares in the form of a hand-held, rocket and smoke flare. Each type of flare is used for a specific purpose. Their purpose is to attract attention when immediate danger exists. They are only useful if someone is close enough to see them, so I need to use my good judgement when using as they are single use.
See the diagram below to understand each types range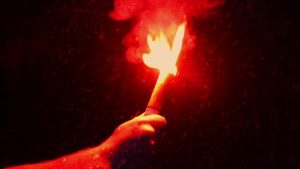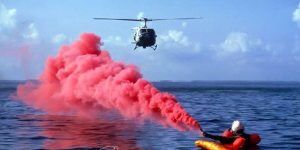 Fire Extinguisher
One small unit will be on board. Always a standard precaution!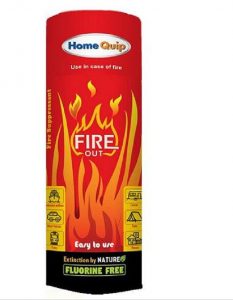 Medical Kit
A comprehensive medical kit will be put together to cover all possible scenarios, which I find are always needed at any time.
VHF Radio
There will be two VHF radios on board, the main and most important one will be a fixed unit inside and the other a handheld unit. The fixed one has a greater transmitting power (25W) and thus a longer range than the handheld (5W).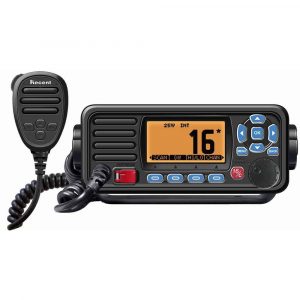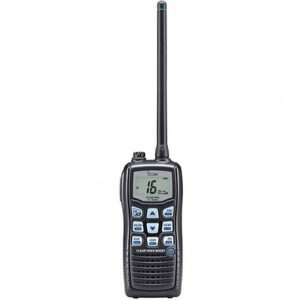 Radar Reflector
The kayak will give a very poor echo on a ship's radar, especially in rough seas as it is so small and made of fibreglass. A tube radar reflector is simply an arrangement of metal elements crossed at several 90-degree angles in a plastic casing to reflect energy from the radars and thus enhancing the signal of the vessel.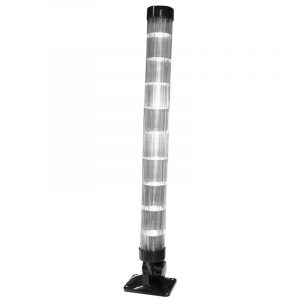 I am being optimistic, I hopefully won't need to use half of the above…but always be safe rather than sorry, the ocean can be a dangerous place.
Thank you to Graeme Taylor from Seaport Supply in Cape Town who will be assisting me with supplying all my safety equipment I will need for my journey. If you need any boating or marine equipment pop into their shop in Paarden Eiland and chat to a great bunch of guys.
https://www.richardkohler.co.za/wp-content/uploads/2020/09/flares.jpg
600
1200
carmen
https://www.richardkohler.co.za/wp-content/uploads/2020/06/RK-Logo-WHite-Site-300x227.png
carmen
2020-09-03 10:30:56
2020-09-03 10:30:56
Safety at sea