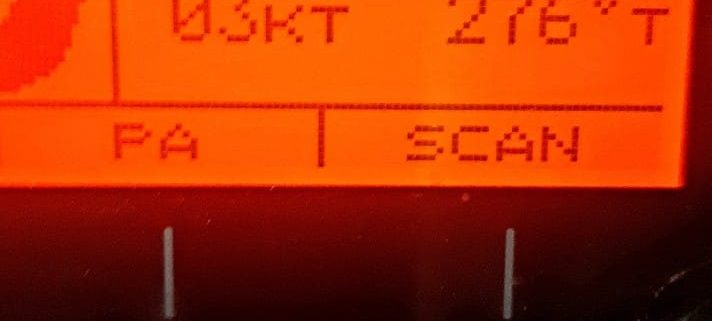 Finally, a clear sky to start the day.
Still lots of moonlight. I was up at 4 am, and instead of reading to fall asleep, I jumped outside and put 2 hours of magnificent paddling in just my board shorts. Lekker and cool. No rain squalls and no beating sun ☀
I noticed a red error light intermittently lighting up on the AIS unit last night. Looking at the VHF display, it seems as if the AIS unit is not transmitting my position every 3min. (Usually, it's much more often, but I am going slower than 3kt) There are gaps as long as half an hour. That's a little concerning as I am coming up to some busy traffic near Salvador.
During the shore team chat this morning, I got hold of the Garmin technical guy, Dylan. He really knows his stuff. We did a few things, but unfortunately, no solution was had.
I will call the next vessel I see and ask if Osiyeza shows up on their AIS.
Weather Router Robin has asked me to head further North and supplied me with a waypoint to aim for.
It looks like there will be predominantly NE winds next week on the approach to Salvador, plus a Southerly current. I need to go North to avoid being pushed South of my destination. Pressure is starting to mount. It would be a shame to miss my destination 🙃
I called up a ship called Leo Ocean, and they kindly confirmed that I appeared on their plotter. Not sure what the error light means. The only way to find out is to attach a laptop to pull the error codes off. I don't have a laptop on board. Even with the error light, it seems to be transmitting my details.
This is the second one I have seen. It's the biggest blue bottle I have ever seen. Actually, it's not blue but pink. A large pink bottle. It's the size of a side plate and shaped like a Cornish pie. I need to be quicker getting my camera 📷.
I have had company for most of the day. It started with four birds feeding on baby flying fish about four swells in front of me. They shriek each time they dive bomb for a flying fish. As the day progressed, more and more birds came to join in. I have concluded that there must be a school of fish chasing the flying fish, which makes them take to the sky. Maybe the shrieking from the bird is a thank you to the fish for pushing a meal into the air.
This carried on for hours. Eventually, I counted 15 birds. They started to work in groups. One following the next. Three or four at a time would dive. The poor flying fish had no chance now. It had to evade the big fish trying to eat it, and now four darn birds were also in on the action. It was a wonderful afternoon watching nature's TV.
David Attenborough, eat your heart out 😘
Officially under 1000km to go and have crossed another timeline so I am 4 hours behind South Africa.
R298,220 raised for Operation Smile
54 smiles changed forever
https://www.richardkohler.co.za/wp-content/uploads/2023/02/WhatsApp-Image-2023-02-10-at-09.13.501.jpg
1267
712
carmen
https://www.richardkohler.co.za/wp-content/uploads/2020/06/RK-Logo-WHite-Site-300x227.png
carmen
2023-02-10 07:26:39
2023-02-10 07:37:02
Day 53: AIS error