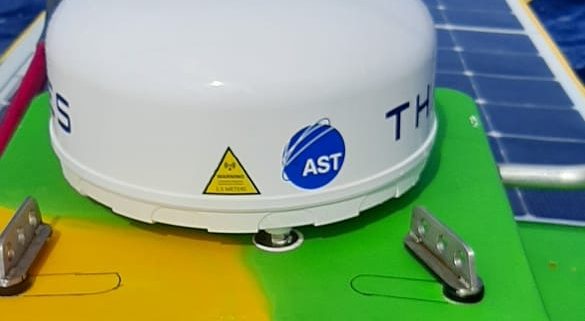 Day 11
By now you would have heard that not all is well aboard the good vessel Osiyeza and I am now trying to make landfall in Walvis Bay, Namibia to take stock of the situation.
But I don't see any reason not to keep the good folk like yourself up to date with life out in the Atlantic on a tiny Surfski. I say tiny because the moment I was out of sight of land Osiyeza seemed to shrink. Bizarre, I know right?
Thank you for the Christmas wishes. It's very uplifting to see so many of them. Please do keep the comments coming and I try and respond to everyone even if it's just a 👍. How do I do this from the ocean?
Via satellite but not the traditional Sat Phone. I do have one, but it is for emergencies, and I keep in the grab bag with all the other safety gear. The non-traditional call to me is the WhatsApp call. Believe it or not out here I have satellite Wi-Fi.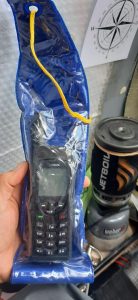 My Communications partners SMD Africa Marine and AST arranged the Thales Vessel Link which works on the Iridium Certus network with super-fast transfer speeds. It feels like I am on my home Wi-Fi. The antennae dome sits on the aft locker hatch behind the seat and the brain box is well protected from water far inside the cabin. All l to do is flick a switch and a few minutes later my messages come flooding in. This is how the images and video etc find their way to your social media feeds.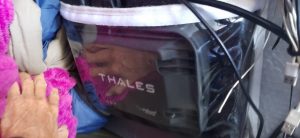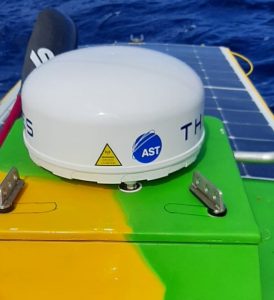 Back to Christmas day.
I mentioned in the previous blog that Maverick and Goose had been grounded. With both autopilots out of action I needed to do some repairs. Together with my shore team we got the diagrams of the internal workings and guidance from yachting forums I felt equipping to start surgery. Maverick's insides were covered with black dust. The drive belt had been slipping. I replaced the belt with a spare but there still seemed to be too little tension. There was a gap between the motor and its housing. I made a shim from a cable tie and glued it in place.
Goose had suffered a similar fate but only having one spare belt I made do with what was there. The gap on Goose's motor housing was a little bigger so I used a bigger cable tie. In testing Goose work fine until he developed a squeak which I put down to the motor bearing. Belt may be too tight.
Maverick ran like a dream, and I left him all night. Unfortunately, he started acting up by the morning. My confidence in my wing men is low right now.
Every day after the morning sun routine I check the state of the batteries and the panel charge rates. The battery was the lowest it's been but nothing to be concerned about, but the aft solar panels had not yet started charging. That's odd! A while later when they had good direct sunlight I checked again.
Houston, we have a problem was the first thought.
The second was WTF?
The third thing that happened was my heart sank low very low.
"Got to be a simple reason" I muttered to myself. I flicked the sat com switch and in five min I was in WhatsApp communications with my shore team. I felt terrible. Bugging them on Christmas day and now again on Boxing Day. So, I started to push and pull and test and prod as instructed. They also have direct coms with my onboard Victron controllers so they can see exactly what's happening and can even adjust settings.
This went on for almost 5 hrs. My head in the locker below my bunk contorted in every which way. Nausea coming and going.  At one stage I was asked to feel all the solar cells for heat indicating a possible faulty cell. As a good boy I duly clipped on and did what was asked.
Oh boy it's slippery when those things are wet. I made up two stops that attach to the side of my harness and then to the aft grab lines that run down the side of the hull. Thus, should I need to do any rudder repairs I could not slide off sideways. I did not use these to check the solar panel. One moment I was trying to climb over and back into the cockpit, the next I am in the water.
MAN OVERBOARD!
It happened so quickly. Getting back on was not that simple. The leash would not let me move to the side of the cockpit where it is easy to pull yourself on-board. I was not about to undo the leash so I had no option but to try pull myself up onto the solar panels again but there is nothing to grab hold of.🏊‍♂️
Eventually I managed it but by then I was a little frazzled. I had to ask my team for a short break. Never a dull moment out here. 😎
To cut to the chase, everything except the voltage from the PV Panels is working. Why?
Still unknown. Perhaps saltwater corrosion somehow. Unlikely with such high-quality panels. Time will tell.
It was agreed that trying to continue with Osiyeza in her current state would be foolish. My option now is to try and get to Walvis Bay, Namibia. It's the only option I have of a self-rescue.
So East is the new direction 😔 It will take about a week to get there and it's not going to be easy.
Bird of the day: European Storm Petrel
After making the Walvis Bay call, I was sitting back contemplating life when this Storm Petrel flew and dance around Osiyeza for about 10min. The water touching that I though was them feeding is actually water touching their feet. This fella was putting on quite a ballet show around me. Privileged to have seen this. Who knows the reason for this foot touching, but it made my day? Thanks, little guy.
Position: Don't know right now. All electronics are switched off during the day to conserve battery charge. Which means no AIS during the day.
-27.272820°
11.974580°
PS: Started using the emergency water rations. Should be enough for the rest of the week 🤞
https://www.richardkohler.co.za/wp-content/uploads/2021/12/WhatsApp-Image-2021-12-27-at-12.56.00.jpeg
640
585
carmen
https://www.richardkohler.co.za/wp-content/uploads/2020/06/RK-Logo-WHite-Site-300x227.png
carmen
2021-12-28 08:31:35
2021-12-28 08:33:07
Day 11: Houston we have a problem