On Osiyeza I need lightweight and reliable systems.
Lightweight means better boat speed which means less time at sea and as there is only me on board to fix anything reliability is super important.
The first topic are the solar panels as they are the reason I can have electronic gear, and most importantly the reason I am able to make fresh water which makes a trip like this possible on such a small craft.
I chose the Solbian Super Rugged(SR) series of solar panels which are flexible lightweight panels, are completely waterproof and resistant to salt water. The Merlin technology monocrystalline cells have a cell efficiency of 21% which is very high compared to others. Being super rugged means they can handle me walking on them which is important should I ever need to do any rudder repairs.
The panels we chose are "peel and stick" with the terminals on the underside side. These panels have a high tolerance to cracking and bending which means they are able to bend to the curvature of the deck without any problems leaving a nice flush finish.
The back deck was made wider with "wings" to accommodate the two 160W panels.


The two SR72 panels on the starboard side are rated at 72 watts each and the two SR186Q panels on the aft deck are rated at 186 watts each.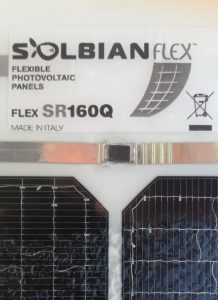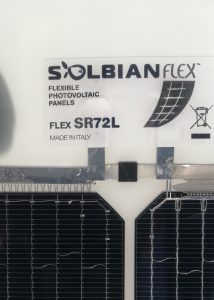 The fore and aft pairs use separate charge controllers (redundancy/backup) giving a total of 516 watts. The weight of all the panels is only 7kg.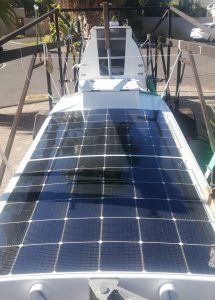 Why are there only panels on the starboard side of the cabin?
The solar system was designed by Dr Christiaan Oosthizen from Tshwane University of Technology. He studied the last 20 years of weather and solar data along my predicted route and then used some very clever mathematical algorithms to predict how much solar radiation I should get. It also indicated that overall the starboard side would receive up to 10% more than the port side.
Thanks to
Solbian
Italy for their assistance and price concession.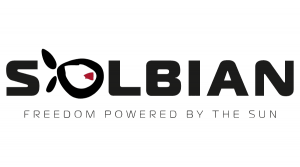 https://www.richardkohler.co.za/wp-content/uploads/2021/06/Solar-1.jpg
1016
2062
richardkohler
https://www.richardkohler.co.za/wp-content/uploads/2020/06/RK-Logo-WHite-Site-300x227.png
richardkohler
2021-06-30 07:10:09
2021-07-13 09:37:14
Solar Panels