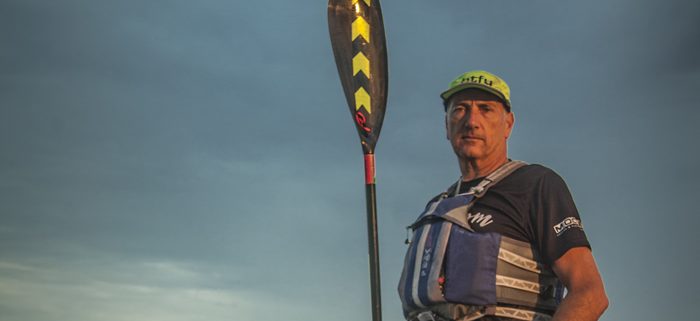 In December last year, filled with enthusiasm and the joys of life in the great outdoors he launched from a beach in Mozambique. His goal was to be the first solo-surfski paddler to paddle the entire 3600km South African coastline between Mozambique and Namibia. His purpose was to raise enough money to finance the reconstructive surgery that would enable 200 children to smile for the first time.
He didn't make it!
During the planning stages conversations about the Herculean challenge ahead of him always seemed to wind their way back to the worst case scenario of a shark attack. The shark attack happened on day three of his paddle! A little rattled and more than a little anxious he put out to sea again in a replacement kayak.
Within a week of getting started the KwaZulu Natal coastline swallowed him up, worked him over and unceremoniously spat him out as a buckled man on a remote beach at the Amatikulu River mouth.
Mentally shaken up by the shark attack and physically damaged by the KwaZulu Natal surf, he gingerly put out to sea again. Hopefully, with a little physio at the next few stop overs the pain would subside.
Behind the scenes, with each passing day, word was spreading about Richard Kohler and his epic paddle for smiles. Despite the battering headwinds, shark attack and the serious punishment his body was taking he soldiered on.
Slowly, one kilometre at a time, with everybody's support he was getting there. After three weeks he got as far as Winklespruit and then he suffered a knockout blow – the expedition was robbed. The low-lives that infest parts of this planet with their rot broke in and stole all the expedition equipment; safety gear, navigational equipment, radios, computers, cameras….everything – including irreplaceable photographs and video footage.
For all intent and purpose, Richard and Riaan had given it their best shot – expedition over!
…or not?
Seconds out; round number 2.
On 14th October 2012 (yes, that's in 10 days time) Richard will launch from Alexander Bay, paddle up to the Orange River mouth which marks the border of South Africa and Namibia. He will do a ceremonious U-turn and begin his epic journey all over again.
"I have no intention of giving up!" said Richard in his quiet, resolute way. "With the support I have received from family, friends and people I have never met, I am more determined than ever to paddle the entire 3600km South African coast line. Together, where each of us do what we can to make this expedition work, we will give the gift of a smile to 200 children."
Say no more!
https://www.richardkohler.co.za/wp-content/uploads/2015/08/12.jpg
400
700
richardkohler
https://www.richardkohler.co.za/wp-content/uploads/2020/06/RK-Logo-WHite-Site-300x227.png
richardkohler
2012-10-14 18:09:49
2020-08-19 10:10:16
Richard Kohler rides the waves again