Paddle Day 46
Port Alfred to Hamburg 68km (6hrs 10min)
We had a two day weather break in Port Alfred (PA) due to strong easterly winds and were lucky enough to be looked after by Rick and Jo-Anne Bretts. Yay, no more getting wet in our tents and it rained for most of the time while in PA. I was a bit of a hermit for the stay and relaxed at home and make good friends with the coffee machine which had a good workout. Warren and I stayed up late on New Years Eve but I didn't make it and was in dream land before 21h00.
We managed to get in two newspaper interviews while in PA and hope to post the stories as soon as they are published, scanned and sent to us.
On Thursday morning at 04h30 we gathered at a little slipway at the Kowie River. It was quite a large gathering. Our hosts Rick and Jo-Anne came down to see us off. Reporter Dave was there to get some pics for the paper. A local doubles team who wanted to paddle the first 15km with me and then Craig Webster with whom I stayed with in Richards Bay a year ago while on my first attempt. Craig had just driven up the day before from Cape Town after completing the Cape Point Challenge and a short holiday on the West Coast.
Leaving the river mouth was different to when I arrived – not a wave in sight this time. The south westerly wind was already pushing us up the coast and the wind chop was building. As the conditions got better the singles started to pull away from the double ski. The wind chop was short and small making it difficult for the double to make much use of it. After a while I stopped for them to catch up and as they were only going a short distance thanked them for the company but we would keep going.
The conditions only got better but the forecast was for 5.5m swells to arrive by the afternoon and the winds to be gusting over 40 knots so we needed to be off the water before any of this happened. Every now and then a set of big swells would pass under us and pound the shore but for most of the time the conditions were fine. Some time into the paddle Craig had to hop off his craft for a call of nature.
Along the way Warren made contact a few times as he followed us up the coast and each time he had a visual as we were paddle close to the back line to stay out of the current. The downwind conditions just got better and better and it was almost sad to have to round the point at Hamburg and head to shore. The big swell and wind had not arrived yet so we no issue getting out at Hamburg.
The forecast shows big swell until Sunday morning so we have a 3 day weather rest before heading to East London. We are staying at a secret spot on the coast halfway between PA and Hamburg. Just a few houses. Friends have a holiday house here but it is full of people so could not offer us room but were telling their neighbours, Gus and Viv Laverge, about my trip. The Laverge's were not going to be at home for this time and offered their house to us.
How amazing is that! Thank you Gus and Viv. Look forward to meeting you one day.
Their spot is stunning and has a cracker view of the river mouth and sea. The forecast buster came as predicted and boy did it get messy. The ocean turned itself on its head and the wind whipped up the sand which got into everything. After just a few hours there were mini sand dunes inside the house as the wind pushed the sand through any gaps under the doors.
Yesterday we spent some time on the beach at low tide looking for oysters that have been washed up from the big waves. We only found two. Our time here had been very relaxing going from one meal to the next. Sian's and her mom, Lindy, have been keeping out bellies full and making sure I get all the healthy leafy stuff into my system. Yay. Unfortunately Lloyd has been down with some sort of flu which I hope does not jump host.
Our stay here has been wonderful.
The next paddling day is Sunday mid morning from Hamburg towards East London.
ACTS OF KINDNESS
A school friend, Kevin Weaving, made contact with me after hearing about my trip. I had not seen him since school days. He has now become one of our biggest fan/supporter offering help and advice at every turn. He is also the provider of my "Multitrack" tracking device. (www.multitrack.co.za User = smile pass =1234 ) We made arrangements to connect when I got into Plettenberg Bay as his family would be camping at the Keurbooms River for the holidays. He was also going to lend us his camping 80l fridge for the rest of our trip.
I met him and his wife at the beach when he came to see me in and after chatting for awhile, almost off handedly, said that their tent/camp site had burnt down last night and everything went up in smoke in seconds. Fridge and all! How devastating! Dodgy Christmas lights were the cause.
A few days later called to say that their fellow campers had done a collection so that they could at least replace the tent and handed him an envelope full of money.
He then said to me he would rather have this money go to our cause and would we please note it as a "Donation from the Keurboom campers"
How amazing is that?
Thank you to all the campers and to you Kevin.
7 January 2013
PADDLING FOR SMILES ON HOLD????
Yesterday Richard managed to paddle from Hamburg to East London although suffering from his recurring back injury.
Today's reports indicate that he is mobile but struggling and will be receiving medical treatment later.
Keep your fingers crossed!
Today's Daily Despatch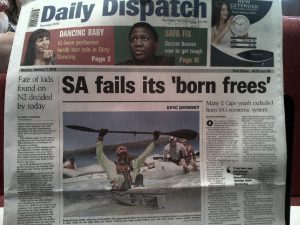 Paddle Day 47
Hamburg to East London 54km (4hrs 10min)
I knew there was a problem when I could not bend enough to put my booties on!
The conditions leaving Hamburg were good. A very light tail wind which started to increase. The following sea started to increase in size and I was starting to enjoy the paddle although I still had some pain from the lower back. I had taken a smartie pill before leaving and it must have kicked in.
About two hours later the wind and sea suddenly stood on its head. Making matters worse was the strong head current which pushed the swell up and was causing two out of three crests to break. As Everywhere the sea was looking nasty and more so the further out. I stayed close to the shore as I dared.
At Kidds beach, Warren told me that two single ski's had gone out to meet me and paddle the rest of the way. I waited for a bit trying to find them but with the sea the way it was I did not want to wallow around for too long. I never did see them on the water.
The next land mark was Cove Rock. At this point in the PE to EL Challenge you know its almost over but still a bit to go. As I passed the rock the sea changed instantly. No longer were the swells steep and breaking but had become fun again. I suspect it is all due to the currents. As I got a glimpse of the harbour breakwater I saw a whole bunch of paddlers heading out to meet me. It's always a fine sight. From there it was a quick dash around the breakwater and onto Orient beach.
A photographer for the Daily Dispatch was there so we had the photo shoot thing. The following day it was the front page picture. That evening there was a braai with a question and answer session at Border Canoe Club. What a lekker bunch of paddlers
The next morning my lower back was not happy! I struggled to get out of bed and movement was difficult so I had to take some time for physio treatment and rest.
We stayed with the Thompson's family for the two nights and thanks to their son's who gave up their rooms for us. It was refreshing to see how these youngsters spend their days. Lifesaving – surfing- fishing – paddling – skateboarding etc and everything within 5 minutes of their home. Brendon had arranged our breakfasts with their Wimpy up the road so this was where we spend our mornings. Breakfast, cappuccino and wifi. What more did we need besides a new lower back!
Paddle Day 48
East London to Cinsta East 31km (2hrs 30min)
Regarding my lower back the consensus is inflammation from spending so much time paddling and especially in the bigger downwind conditions as you tend to steer a lot by leaning the ski one way or another and put extra pressure on the joints. I had a few physio sessions with Gerda and I was soon mobile and ready to have a test paddle.
The forecast indicated that at 11am the wind was going to change to a SW and increase to 20 knots.
At 11am I put in at Orient Beach and met up with Ian Boyd who had paddled from Nahoon to join me for the leg back to Nahoon. We made our way out to sea a bit and soon started catching some lovely runs. In the words of a good mate, Ralph, they were "lollies or taxis". Easy to catch and can ride them for a long time without much cost in effort. Right up my ally!
From Nahoon it was passed Three Sisters and to Gonubie. I had a chat with Warren here. Well it was a one sided chat. He could not make out what I was saying. Something wrong with his VHF radio. More on that later.
A little while later as I was passing Glen Gariff I saw a snake on the water. I paddled a little closer to get a better look but as I did so it tried to swim closer to me. Oh no! I could see the Daily despatch headline. Solo paddler taken by Puffadder – At SEA. I am not sure if it was a puffadder but I am sure it was a land snake. Must had been washed out to sea down one of the rivers.
Coming into Cinsta East looked more difficult than it was. I called Warren to get his advise but he had not made it to the beach in time. I paddled along the back line looking for the best place to get in through the surf and eventually found it on the West side of the river mouth. As I came ashore Warren made it to the beach and was trying to spot me on the water. He kept on telling me he could not see me and he could not understand me when I tried to say I was already ashore. We were at opposite ends of the beach! Quite funny now!
My lower back stood up well to the paddle which is a great relief.
We are lucky enough to be staying in Shane and Joy Roach's holiday house in Cinsta East. We feel like kings here. The house is on the top of the dune tucked away amongst the trees. The views are spectacular especially from the hot tub ?
I am planning to get to the Kei mouth tomorrow morning early before the predicted swell builds to 3m plus. After that there is unfortunately a nasty Easterly forecast to blow hard for five days so we may be stuck for a while. We may travel back to Cinsta East and wait it out here. Could think of worse places to be!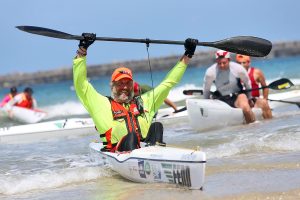 Paddle Day 49
Cinsta East to Kei Mouth 31km (2hrs 36min)
It was lekker to be back on the water before sunrise again. Even though it was overcast and I never saw the sun until later in the day there was enough light to get through the surf without issues. Just behind the breakers I was greeted by a few dolphins. Good start for the day don't you think. The visibility was very good today and I could see the light of the Kei River lighthouse from the start.
Oh, by the way, how was the traffic for you today! ?
The first place of interest to me was Haga Haga 15km along. The last time I was here was 1985 for a family Christmas holiday . I remember this date because it was when I first heard "Walk of Life" by Dire Straights on the wireless. Great memories I tell you!
A short while after Haga Haga the wind and seas got up. I headed closer to the shore to get out of any current hoping the sea would be more forgiving. It was a good call. I saw a rather big splash ten metres or so on my right side which made me turn left and start my sprint training again.
Approaching Morgan Bay there are some stunning cliffs reminding me why the next 10 days are along the "Wild Coast". The surf at Morgan Bay was as I only know it – big and messy. Passing the Kei Light house at the next point I stayed close to the rocks and managed to get some great waves to ride around the corner and to the river mouth. The plan was to beach at the north side of the river but as I approached all I could see was lots of big surf so I opted to take out on a tiny beach before the mouth. I had to paddle up and down a bit to get my timing of the waves correct before heading in. Got it right so no issues.
Friday is going to be big swell and strong S to SE winds turning to very strong East winds till Sunday evening and the dropping off. So we have to sit tight for a while and then attempt it on Monday morning.
As in the classic movie Top Gun – Today was "Hop 50"!
Kei Mouth to Kob Inn 40km (3hrs 30min)
For the next few day up to Port St Johns we have been joined by Chris Bordeaux from East London. He is going to be our "guide" and is a mine of information on the Wild Coast having spent much of his spare time up and down this coast line.
Today was a late start due to the drive from Cinsta East and also the wind was only going to change later in the morning. The wind did change early and only really got going much later in the day. Leaving was a quick paddle out through virtually no surf and then headed left and passed inside the rocks just off the mouth. Here the water was muddy brown and just after low tide. I am not very comfortable paddling in this type of water but there is not much I can do and there are so many river from now on that I must just get used to it.
For the most part I paddled just behind the breakers to keep out of the strong current. I averaged 11.5km/hr so I was still in a head current. Normally in today's conditions I would average maybe 13km/hr.
Many years ago I did a group hike from Kob Inn to Morgan Bay over 5 days. It was fun to see places I had been to and to recognising them from the sea. From here on it will all be new. The wind increased to over 30km/hr and was starting to get messy
As I was approaching Kob Inn I tried to call Warren on the radio to find out which was going to be my best option for landing but I got no response. I then called him up on his cell phone and was told that they were still half an hour away. So I was on my own and eventually made a call to beach well before the river mouth where the surf looked the smallest. I made it in without any problem but then had to walk 500m to get to the river before paddling up stream to the ski boat launch site.
Warren and Chris arrived and hour later! It sounds like the roads have taken a bit of a beating and it was slow going. They saw a bakkie lose its back wheel and drum assembly. The bakkie ended up on its side in the ditch. Very glad we have the right vehicle for these roads. Thank you Land Rover!
Tomorrow I will head for the Bashee river and by the sounds of it I will get there before my crew again. Maybe there will be more oysters while I wait for them ?
https://www.richardkohler.co.za/wp-content/uploads/2020/03/20130120-Rainbow-e1594283109472.png
337
600
richardkohler
https://www.richardkohler.co.za/wp-content/uploads/2020/06/RK-Logo-WHite-Site-300x227.png
richardkohler
2013-01-07 18:19:48
2020-08-07 08:44:38
Paddling Update: Day 46-49